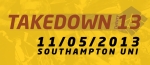 As expected, more bands have been announced for this years Takedown Festival in Southampton. The latest editions are Shadows Chasing Ghosts, The Hype Theory, Desolated, Burn The Fleet and Death Of An Artist.
More bands are expected to be announced this Friday (1st March).
Takedown Festival takes places on Saturday 11th May at Southampton University.
Visit takedownfestival.co.uk for more information and click read more to view the full line-up so far.