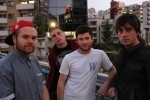 Shikari Sound System, Baby Godzilla and Gallows have been announced as guests for the 2013 edition of the Crossfire Halloween Massacre.
The event takes place on Friday November 1st on the Battersea Barge in London. Tickets can be purchased here.
A flyer for the event can be viewed by clicking read more.