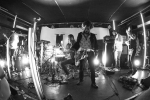 Shone are set to release their debut album, 'Heat Thing' in the UK on August 26th through Procrastinate! Music Traitors!
The band features members of Brand New, Robbers, Bad Books and Kevin Devine & the Goddamn Band.
1) Piano Wire Number 12
2) Metal Bones
3) Fischer King
4) Defender 237
5) Baby Shakes
6) Black Death
7) Kin
8) Slithering
9) Bestial
The opening track, 'Piano Wire Number 12' can be streamed by clicking read more.