This past September, German emo punk/hardcore outfit Shoreline joined Pure Noise Records. Today the quartet have revealed details of their full-length label debut. 'To Figure Out' will be released on February 24th
The record was recorded with Chris Teti of The World is A Beautiful Place And I Am No Longer Afraid To Die at Silverbullet Studios Burlington, CT. 'To Figure Out' promises to touch upon personal and political issues. It also sees Shoreline maintain a theme vocalist Hansol Seung has introduced on past releases; his experiences of being an Asian-German.
"There is this stereotype floating around saying the third record is the hardest one for a band, I read that saying a hundred times in interviews or magazines. I think I disagree," explains Seung. "This feels like our first record, everything is new, exciting and fresh. To Figure Out is a collection of songs that all have one shared thought/recognition: everything is a process. I love how the topics on the record are so diverse, – there are songs about my journey of reclaiming my cultural heritage as a Korean-German, a lot of political anger and comments on the climate crisis and straight-up love songs."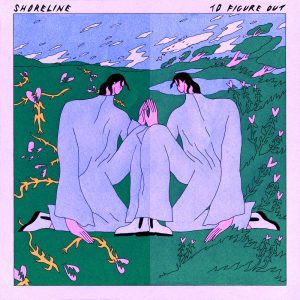 1. Needles
2. Darius
3. Workaround
4. Seoul
5. Health
6. Reviver
7. Green Paint
8. Yuppie Kids
9. Pen Name
10. Don't Feed
11. Loose Contacts
12. Interlude
13. Cold Feet
Watch the video for Shoreline's New Single, 'Seoul'
Alongside the album announcement, Shoreline have shared a new track called 'Seoul'. It exemplifies the theme of Hansol Seung taking ownership of his Asian-German heritage.
"'Seoul' is about visibility, empowerment and also the ability to accept and love yourself in an environment where your look and culture is a minority," states Seung.
The track itself is a strong piece of melodic emo-rock with an ebb-and-flow structure that amplifies the delicate subject matter.
'Seoul' Lyrics
I'm scared but I can't move
there's a better place but I can't go
I don't want to cover up and I don't want to talk too much
it makes me fucking sick
that I used to feel so insecure about my skin tone
man it would turn so brown in the summer south
can you figure out
how to get rid of the wish to be someone else?
you gotta light it up / you gotta burn it down
I will find my peace where it's not allowed
I was faking
I tried to mimic them
just an exaggerating, tragic copy of a white kid
how can I be a white kid?
what a strange way to think about it
you gotta light it up / you gotta burn it down
I will find my peace where it's not allowed
and I know it's a lot and it's heavy on your shoulders
and I feel the same way too
we both spent our youth confused
do you realize how it shifted
it's a power not a weakness
you should take it back, claim it and reuse it
can you figure out
how to get rid of the wish to be someone else