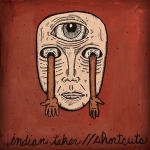 Essex band Shortcuts have announced they will release a split EP with California's Indian Taker on January 29th.
The Split EP will be released through Enjoyment Records, Guys With Beards Records and Quote Your Pulse Records.
The vinyl release will be available in four colours;  Gold, Red, Green and "mystery".
A track from Indian Taker called 'Growing Feigns' can be streamed by clicking read more.