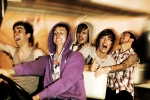 Essex Post-Hardcore combo Shouting Signals are set to release their début EP, 'Stand Your Ground' on April 1st.
1. Never Run Away
2. Breathe In, Breathe Out
3. One Forty
4. All My Answers
5. The Penitence
The music video for 'The Penitence' can be viewed by clicking read more.