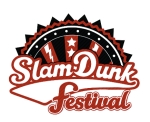 The stage splits for this years Slam Dunk Festival have been announced with All Time Low as headliners on Main Stage and will be joined by Deaf Havana, Kids In Glass Houses, Sleeping With Sirens, We Are The Ocean, Mallory Knox, The Summer Set and Tonight Alive joining them.
The Macbeth stages is headlined by Four Year Strong and sees the likes of The Early November, The Wonder Years, Allister and more playing.
Other stage headliners are Pierce The Veil (Monster Stage,) Andrew McMahon (Keep A Breast stage,) King Prawn (Vans Off The Wall Stage,) Cancer Bats (Tiger Beer Stage) and Caspa and Tek-One will headline the Front Magazine Stage.
Full stage splits can be viewed below.
May
Friday 24th Slam Dunk Scotland O2 ABC Glasgow
Saturday 25th Slam Dunk Festival North Leeds University
Sunday 26th Slam Dunk Festival South Herts Uni, Hatfield
Monday 27th Slam Dunk Festival Midlands Wolverhampton Civic
Tuesday 28th Slam Dunk Wales Cardiff University
Wednesday 29th Slam Dunk Ireland The Academy Dublin