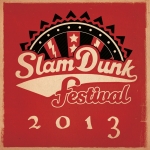 The likes of Sleeping With Sirens, Memphis May Fire, Man Overboard, Andrew McMahon, Mallory Knox, MC Lars and The Summer Set have been added to the line-up for this year's Slam Dunk Festival.
They will join a variety of previously announced bands including headliners All Time Low, Pierce The Veil, Streetlight Manifesto, The Wonder Years, and more.
May
Saturday 25th Slam Dunk Festival North Leeds University
Sunday 26th Slam Dunk Festival South Herts Uni, Hatfield
Monday 27th Slam Dunk Festival Midlands Wolverhampton Civic
Full list of band announced so far:
All Time Low
Pierce The Veil
Streetlight Manifesto
Woe Is Me
The Early November
The Wonder Years
Fireworks
Four Year Strong
The Story So Far
Senses Fail
The Skints
Polar Bear Club
Memphis May Fire
Sleeping With Sirens
Man Overboard
Andrew McMahon
Mallory Knox
The Summer Set
MC Lars
and more to be announced.
All shows are 14+ and aftershows 18+.
Tickets are £34 or £38 including the aftershow party.