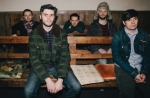 Stagecoach have called time on their 10 years together.
The band will be announcing details of a final show soon and made the following comment:
"STAGECOACH 2003-2013
After 10 incredible years we have decided to close the book on what has been an amazing adventure. From small beginnings at a Dorking open mic to jamming with Phoenix and opening for Jimmy Eat World, it really has been a wonderful journey which we've all cherished. We got to realise some of our teenage dreams such as recording at Maida Vale and playing the Reading festival, things we didn't even think were possible. We'd like to thank everybody who came to a gig, bought a record, voted for us, wore a t-shirt, recommended us to a friend, blogged about us and also all the fantastic bands we have met along the way who we now call friends. Although it is sad we feel it is the right time to stop and look back proudly on what became bigger than we ever hoped or planned. As The Hold Steady sung, we had some massive nights. Hopefully some of which we shared with you!
HUGE thanks to Jack Clothier for being our biggest supporter and not only releasing our records but also guiding this ship/coach. Thanks also to Joe Schiavon for the great effort and work he put in to the band.
We will soon be announcing one final gig and it would be fantastic to see as many faces we've met along the way at this one as possible. Before that you can see us this Saturday at Southsea festival. Let's make it a big one!
Like us, you'll always have Tazers. Luke, Nick, Chop, John & Matt x"