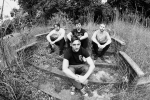 Ash Vale four-piece Stallone will release their debut album, 'Mire' through Tangled Talk Records and Enjoyment Records on October 7th.
1. As A Serpent
2. Without A Home
3. In The Mire
4. Nailed Myself To The Cross
5. They Drew
6. In My Sleep
7. A Chalice
An album preview and a stream of 'In The Mire' can be found after the jump.