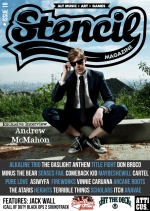 The 18th issue of Stencil Magazine has now been released and is available to view online for free here.
The magazine includes interviews with Andrew McMahon, Alkaline Trio, The Gaslight Anthem, Title Fight, Don Broco, Minus the Bear, Senses Fail, Comeback Kid, Maybeshewill, Cartel, Pure Love, And So I Watch You From Afar, Fireworks, Vinnie Caruana, Arcane Roots, The Ataris, Heights, Terrible Things, Scholars, Itch, and Anavae.
Issue 18 of Stencil Magazine can be viewed here or by clicking read more.