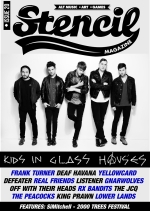 Stencil Magazine have released their twentieth issue and as always it includes interviews, features, reviews and news.
The magazine has interviews with the likes of Kids In Glass Houses, Frank Turner, Deaf Havana, Yellowcard, Defeater, Real Friends, Listener, Gnarwolves, Off With Their Heads, RX Bandits, The JCQ,  King Prawn, Lower Lands and more.
Issue 20 can be viewed here or by clicking read more.