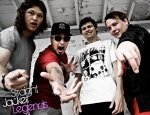 Welsh orchestral pop punk band Straight Jacket Legends have signed to Banter Music.
New material is expected to be released in the new year, and they have recently recorded a song with indie punk rapper MC Lars and are set to work with Thomas Nicholas (aka Kevin from American Pie!)
The bands video for 'Sofia' can be viewed by clicking read more.
­