Recording your debut EP can be a daunting prospect especially when you're away from home. The process is long and if you're the vocalist, you're just waiting to put the icing on top of the cake. This is what Rachael Holland experienced as Crossing The Limits recorded their first EP.
Released this past Friday, 'Perseverance' is five slices of straight up, melodic pop-punk. It sees the Norwich upstarts take their cues from State Champs, Tonight Alive and Against The Current. As songs such as 'Won't Settle' and 'Predictable' show, Crossing The Limits have a flair for writing hook-driven songs with a positive lyrical approach.
To record 'Perseverance', the quintet headed to Sheffield's Steel City Studios for 10 days. Now with the EP out in the open, Rachael told Already Heard about the experience of recording Crossing The Limits' debut release.
---
We had Steel City Studios in Sheffield put forward to us by a friend, and looking further into the studio the place seemed like the perfect match for us. It was a place a lot of bands we listen to had recorded, such as ROAM. We sent our demos across to Drew Lawson and he was up for it, so we booked in for 10 days.
The first day we got to the studio early morning to get started. Meeting Drew was really cool, he's a really friendly guy and easy going. We listened to our demos with him again, and he was pretty happy with how they were written, which was a good feeling. Although his input down the line took the songs to another place that was way better than we could have thought.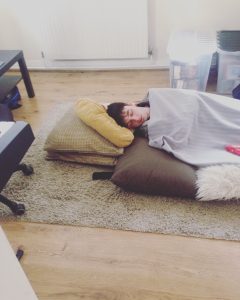 We decided to work on 'Won't Settle' first. Tom (Colmans) and Dan (Smith) laid down guide tracks on guitar for Ben (Brennan), and then it was time to get the drums down. We left Ben to it while we went and enjoyed some time watching movies and eating cereal in the chill room at the studio. Dan was pretty unwell during Ben's drum recording, of course, there is gonna be one of us getting unlucky! He slept like a little baby for a few days in the studio, we walked in and found him sleeping on a pizza pillow on the floor with a blanket. It was really sad but funny at the same time. He soon recovered.
We started talking to Drew about adding in some synth, it was something we got told to go back to the hotel and talk about between ourselves on how much we actually wanted. We had also decided to have a hangout and drink wine sesh that night when, to be honest, we learnt discussing band things over alcohol wasn't the way to go! There were a lot of opinions but we managed to come to agree on a vision.
We then moved onto guitars. It was really interesting to dissect the guitars down into the various different parts and to go over and rewrite parts to work better and create better harmonies. All the rhythm guitar was put down by Tom in about a day and a half, and the lead was put down in about the same time. On 'My Own Way', Tom and Dan swap lead and rhythm so they got to have a little competition with the different parts they play. After this, the bass was tracked by Tim (Clementson) which he spent a lot of time with Drew working on, making sure everything locked into place and fit the rhythms of the songs.
As the singer, vocals are gonna be the final finish so I had a lot of time to look over my lyrics and think about anything I might want to change up. I also spent plenty of time watching Orange Is The New Black on Netflix. Once the guitars were laid down, it was cool to start hearing it come together, although I wasn't needed I really enjoyed being around what was happening. It's really cool to watch the songs grow from being basic demos. I'll admit though, by the fifth day I was getting hotel fever from doing nothing. I'd play music and dance around the room like a crazy person until the guys got back.
I started laying vocals for 'Won't Settle' as the first song. I'll admit I felt some pressure that I'd forced upon myself. I just wanted to do my absolute best, I'd made sure I was super hydrated in the run-up to laying vocals so everything was right. Drew made me feel at ease and was really great with feedback. He'd say "go up on that note" and I'd try it and it would just instantly sound better. Harmonies were always something I've never been confident in, but Drew was absolutely great with this.
He'd get on the mic, no matter how high the note, and he'd play it to me so I'd get it in my head. He made it such a breeze, and harmonies on songs like 'Reverse' really make everything pop. He was really fun to work with, and besides being great at what he does he works super hard and it felt like he really believed in what we were doing.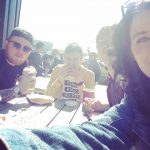 Once all the vocals were laid down, we brought the guys in to show them what we had done. I was nervous but super excited for them to hear the songs completed. We were all just so happy to hear how those songs grew in those 10 days with Drew, it was an amazing feeling and we were all just super proud. Drew had Grant Berry at Fader Mastering to master the tracks once he had finished the mixes. We were really sad to be leaving because that place became a little home to us. It's the best feeling to wake up every day and be creating something. We really hope people love this EP.

'Perseverance' EP by Crossing The Limits is out now.
Crossing The Limits links: Facebook|Twitter|Instagram|Spotify