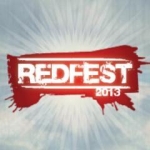 Guildford's Subsource and Southampton metalcore band The Valiant have been added to the Redcore In Your Face Stage for this year's Redfest 2013.
They will join the likes of Bury Tomorrow, Bleed From Within, Turbowolf, Feed The Rhino, Hacktivist and many more.
Redfest 2013 takes place at Redhill, Surrey on July 26th and 27th.
More information including how to enter the 'Road To Redfest' competition can be found at Redfest.co.uk. 
Click read more to view the full Redcore In Your Face Stage line-up.