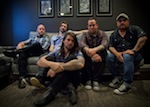 The latest additions to Groezrock 2014 have been announced with Taking Back Sunday, New Found Glory, Touché Amoré and Chunk! No, Captain Chunk! joining the bill.
On top of that The Setup, PUP, Blitz Kids and Gameface will also be playing the Meerhout, Belgium festival.
In additional news the line up for the Groezrock Acoustic Punk Meeting has been confirmed.
The Smith Street Band (AUS)
The Dutch Rudders (BE)
Tragical History Tour (SCO) (Derrick from UNIFORMS)
Trash Candy (SLO)
Evening Call (BE)
Radio 911 (BE)
ScrXtch (NL)
James Choice (AT)
Xenofon Razis (GR)
Dirty Leaves (UK)
Icons Down! (FR)
Greg Rekus (CAN)
Sweet Empire (NL)
Ducking Punches (UK)
Jonathan Marriott (UK)
+ many more TBA
Groezrock Festival takes place on May 2nd & 3rd in Meerhout, Belgium.
The full lineup can be viewed by clicking read more.