In February, Already Heard, alongside Punktastic, ThePunkSite, Flix Agency and Submount Records, will be presenting two of Germany's most exciting musical exports, The Deadnotes and Kid Dad. They will be heading to the UK for a short run of shows.
The Deadnotes hail from Freiburg and will be bringing their melodic brand of indie/pop-punk sound. The trio formed when they were 14 years old and have gone on to play in over 25 European countries with 2019 set to see them play their 500th show.
This past Friday saw them release a new single – 'Cling To You'. It captures The Deadnotes' unbridled lust for life as they follow their instincts and put aside any self-doubts.
On the forthcoming UK tour, vocalist Darius Lohmüller has this to say:
"We're really looking forward to touring the UK again in February together with the sweethearts in KID DAD. I remember us touring the UK for the very first time when we were 17 years old and played this one gig where we nearly got banned from our own concert because it was a strict 18+ venue. I definitely fell in love with this country over the time and every time we tour here I'm overwhelmed how strong the UK music and indie/punk scene is. We can't wait to be back, see a lot of good friends again and hopefully get to eat some proper fish and chips!"
The Deadnotes links: Website | Facebook | Twitter | Instagram
Paderborn-based quartet Kid Dad take their cues from Radiohead, Placebo, Elliott Smith, and Nirvana, resulting in a melancholy and raw sound. Their latest single, 'The Wish Of Being Alone', is a stirring, compelling number with drifting guitars.
Kid Dad links: Website | Facebook | Twitter | Instagram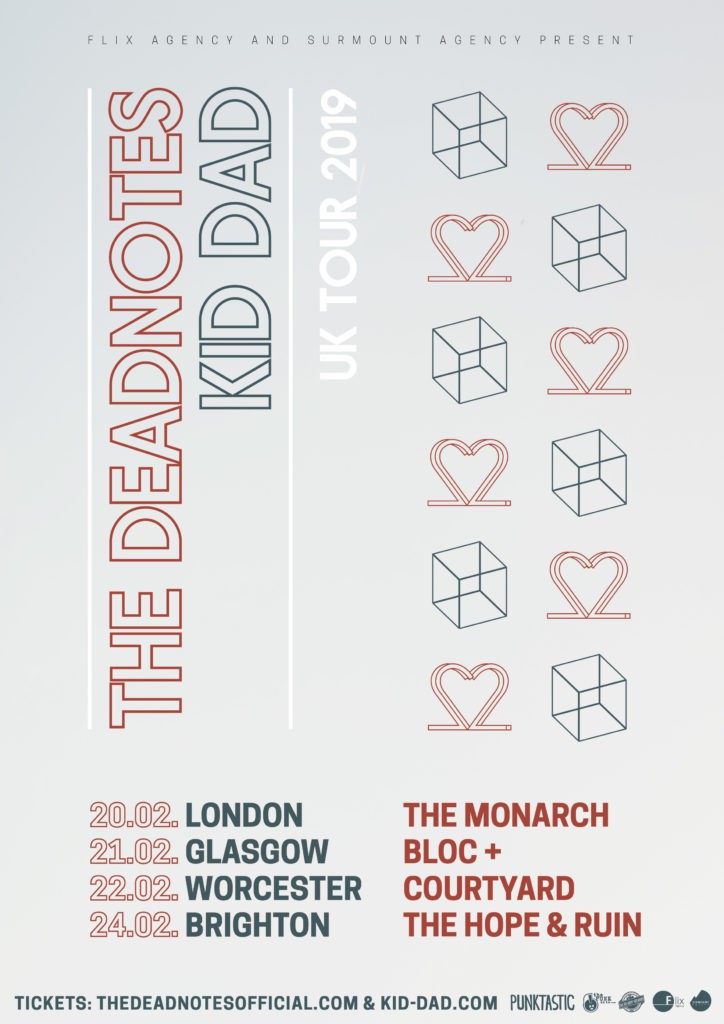 February
20th The Monarch, London
21st Bloc+, Glasgow
22nd Courtyard, Worcester
24th The Hope & Ruin, Brighton