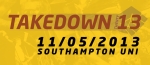 The latest additions to this years Takedown Festival has been announced and sees The Defiled, Hang the Bastard, Hey, Vanity, Our Hollow, Our Home and Elithia joining the one day Southampton festival.
Takedown Festival takes places on Saturday 11th May at Southampton University.
Visit takedownfestival.co.uk for more information and click read more to view the full line-up so far.