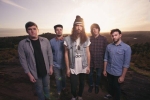 The Elijah have announced their debut album, 'I Loved I Hated I Destroyed I Created' is set to be released on 12" vinyl via Small Town Records.
Pre-orders will be available from 20th April (Record Store Day.)
In addition the bands new video for 'I Loved' can be viewed by clicking read more.