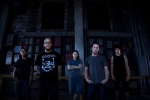 The Faceless have cancelled their UK tour with The Safety Fire due to the band being rejected a working visa into the country.
The tour was set to begin in Bristol on Wednesday.
Michael Keene from the band made the following statement:
"We unfortunately will have to reschedule our upcoming dates in the UK. We were not granted work visas and therefore, cannot make it over. Thank you to everyone who bought tickets and we will make up the dates as soon as possible."
In additional news drummer Lyle Cooper has parted ways with the band.