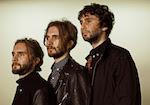 Bath rock trio The Family Rain has unveiled their new video for 'Vulpicide' ahead of the release of their new album, 'Under The Volcano' next week (February 3rd) through Vertigo/Virgin EMI.
The video can by clicking read more, and the track is available to download for free here.
In additional news, 'Under The Volcano' can be streamed on NME.com.