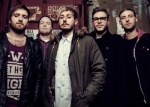 Cambridgeshire rockers The First have announced their second album, 'Take Courage' will be released on 23rd September through Destroy Everything.
1. There's No Place Like Home
2. Take It Back
3. Dare I Say I Ruined Everything
4. Start Again
5. Monster
6. Take Courage
7. Shark Attack
8. William
9. Love. Regret. Forgive. Forget.
10. Tonight Tonight
11. Enough Is Never Enough (Bonus Track)
The First will also play the following headline dates this Autumn.
September
Sat 21st The Junction, Cambridge
October
Tue 8th The BarFly, London
Wed 9th The Flapper, Birmingham
Thur 10th The Exchange, Bristol
Fri 11th Boileroom, Guilford
Sat 12th Rock City Basement, Nottingham
Sun 13th Cluny 2, Newcastle
Mon 14th Corporation, Sheffield