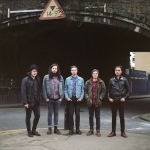 The JCQ have announced they are splitting up and will be playing a final run of UK shows next month.
March
18 Leeds TBC
19 Birmingham Sunflower Lounge
20 Southampton Avondale House
21- Eastbourne Underground Theatre
22 London Old Blue Last
The band posted the following statement:
"So it is with heavy hearts that we announce the end of The JCQ. There are many reasons for our decision, but ultimately, although friendship within the band is at an all-time high, we just don't feel that we can carry on putting the same amount of effort into making this band what it is, when our hearts just aren't in it any more. Like many bands, we have struggled financially and sometimes mentally & physically to keep making music that we love, but we always persisted, never moaned, always did things our own way, made the music we wanted to make on our own terms, and we just want to thank you all for making the last eight years an incredible journey for us.
From sending demos to Andrej at Tangled Talk in 2007, to booking our first tour the same year, travelling around in Jack's car, getting chased out of venues and sleeping in car-parks, to getting through 10 members before even recording a CD, to signing with Hassle Records, to playing in 10 different countries around the world in a year, to playing at a sold-out Brixton Academy, to flying out to Sweden to record the album we've always dreamed of recording, with one of our favourite producers, if nothing else, we've come a long way, made some great friends, seen some incredible sights and had a bloody lovely time doing it.
We will of course all be pursuing our own projects and ventures afterwards, so be sure to look out for new things coming from us individually. Charlie and myself (Maud) have begun work on a new band – Death Rattles, Paul is pursuing his career in tour management and will still be drumming for studio projects, Martin continues his production work as 'In Lieu of a Studio', Trips is playing in Mermaids On Heat with Sacha of The Secret and Jack will be pursuing his own ventures in new walks of life.
The good news is that we've booked a small tour to see off The JCQ properly. Unfortunately we can't play everywhere, but we have selected a few towns that have always been good to us, in the hope that if you want to say farewell to The JCQ, it won't be impossible to travel no matter where you are. We hope to see as many friends as we can at these gigs for one last time.
R.I.P The JCQ; 2006 – 2014."