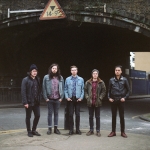 The JCQ (formerly The James Cleaver Quintet) have announced their new album will be called 'Mechanical Young' and is set to be released on 17th June via Hassle Records.
1. Ghosts Diffuse
2. Plainview
3. Resurrection Revenue
4. Aspidistra
5. Love's No good
6. Amidship & Afloat
7. No Kind of man Pt1
8. iii
9. No Kind of Man Pt2
10. Ruin Age
A free download of 'Ghosts Diffuse' can be found by clicking read more.