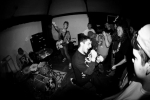 The Long Haul have announced they have split up.
The band posted the following message:
"We have decided to call it quits and no longer continue with The Long Haul. Our hearts aren't fully into the band anymore and real life is getting in the way more and more. 
Sincere thanks to Andrej Pesern (Tangled Talk Records), Vales, Pariso, Goodtime Boys, I Am A Curse, Kerouac, Bastions, Hospitals, Grappler, Kasa, Toby Lewis Thomas, all the great promoters that have put us on and everyone that's ever watched us. 
We might do a final show early next year which will be announced when we work it out.
Thanks.
Harry, Lewis, Adam, Sam
2010 – 2012"