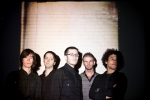 The October Game's new video for 'We Built This Wall To Destroy It' has been posted online and can be viewed by clicking read more.
The single is released today via Scylla Records and can be purchased on iTunes.
The October Game's new album, 'Balancing', will be released on October 7th and can be pre-ordered here.