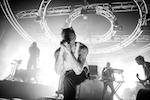 The ProdIgy have been revealed as the third and final headliner for next years Sonisphere Festival.
They will join previously announced headliners Iron Maiden and Metallica and will close the opening night on Friday July 4th.
Liam Howlett from the group made the following comment:
"We cant wait to play Sonisphere 2014, we will be hittin u with some brand new beats and noise. Respect to The Prodigy"
Sonisphere 2014 takes place at Knebworth Park from Friday 4th July to Sunday 6th July.