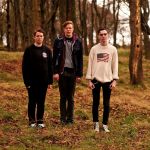 Glasgow's The Sinking Feeling have released the title track of upcoming EP 'Ugly'.
The EP will be released on one side of a 12" vinyl on Struggletown Records, which also includes last year's 'Old Friends' EP on the other side.
Another song from the record, the previously released 'Not Now', can be downloaded for free, here, on the Struggletown bandcamp.
Click read more to listen to the title track.
<a href="http://struggletownrecords.bandcamp.com/album/ugly" data-mce-href="http://struggletownrecords.bandcamp.com/album/ugly">Ugly by The Sinking Feeling</a>