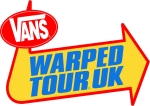 The Used have been announced a last minute addition to this weekend's Warped Tour UK show at Alexandria Palace in London.
The band made the folllowing comment:
"We can't wait to play Warped Tour London! The US tour over the summer was so much fun and we can't wait for the British version. Bring your tea and crumpets to Ally Pally and lets have a jolly 'ol time!"
In addition the stage splits for the event have also been revealed. Stage times will not be revealed until the morning of the show, on the infamous Vans Warped Tour inflatable board. Ticket holders will also receive a free map with all the stage times on.
Monster Energy West and East Stages (side by side – no clashes)
3Oh!3
Architects
AWOLNATION
Breathe Carolina
Bring Me The Horizon
Family Force 5
It Boys
Lostprophets
New Found Glory
The Story So Far
The Used
Jagermeister Stage
A Loss For Words
A Skylit Drive
The Acacia Strain
Blood On The Dance Floor
Bowling For Soup
Funeral For A Friend
The Indecent
Less Than Jake
Man Overboard
Kevin Says Stage
Bury Tomorrow
Crossfaith
Dead Sara
Me Vs Hero
Middle Finger Salute
Secret guest announced on the day.
Taking Hayley Yashin