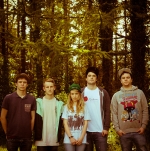 With the release of the 'Scrapbook' EP announced earlier this week, The Winter Passing have released their new music video for 'Gold Blend PT. 1.'
The video can be viewed by clicking read more. 
'Scrapbook' is released on March 8th through Struggletown Records, View From The Attic Records and Something New Records.