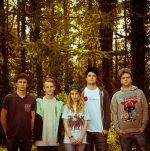 The new EP from Irish indie punk band The Winter Passing, 'Scrapbook' is now streaming in full and can be heard by clicking read more.
In addition the band have launched three different 7" pre-order packages through View From The Attic Records, Struggletown Records and Something New Records.
View From The Attic:
– 'Scrapbook' 7"
– Polaroid of the band, numbered /25
– The scrapbook itself – illustrations / handwritten lyrics / other musings from the band
– A 7 x 7 hand pulled and numbered screen print from artist John Pearson (johnjpearson.co.uk)
– Sticker
– Whole package will be wrapped classically in brown paper and tied with string, with an old postal tag.
Struggletown Records:
– 'Scrapbook' Risograph printed artwork 7"
– The Winter Passing Doctor t-shirt
Something New Records:
– 'Scrapbook' 7"
– The Winter Passing Doctor t-shirt