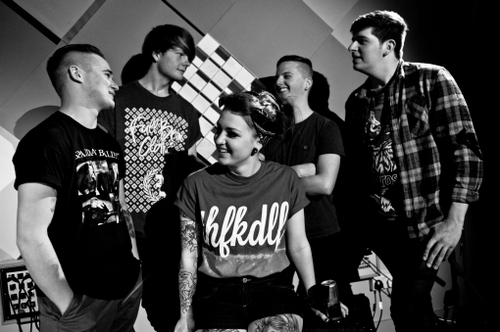 As part of our ever-growing "Tour Tales" feature, rising Southampton post-hardcore rockers Forever Can Wait have given Already Heard a day-by-day account of their time at the recent Download Festival.
As one of six bands voted for by fans to play the festival as part of Red Bull Studio's Battle of the Bands contest, the five-piece spent the weekend taking in the festival vibes and spending time with new and old friends before playing their set on the Red Bull Studio Stage on Sunday afternoon. 
Read on to find out what Forever Can Wait got up to.
If you would like Already Heard to promote and sponsor your tour/show or set up a "Tour Tales" feature, send an e-mail to info@alreadyheard.com for more information.
Friday
Due to other commitments we couldn't leave for Download till Friday morning, so we packed up the van early and set off at 9 30. The first stop off was Harrow to pick up Liam (Baker – Guitarist) then we could properly get on the road to Donington Park.
We had heard about the current weather situation at the festival but on our drive it seemed quite clear. Then we arrived at our campsite, took the tent out of the bag, and it tipped it down, not the best situation. Plus due to slight traffic it took us about 6 hours to get there which meant missing Architects, Papa Roach and fellow Red Bull winners Semperfi and Akord.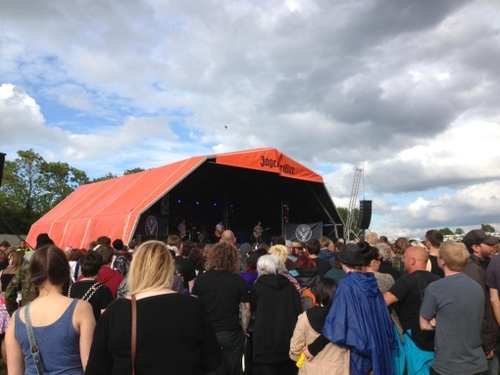 We all celebrated putting up the tent without killing each other with a beer in the sun (typically it came out after we had pitched the tent) then we finally went into the arena. First bands we caught were Korn and We Are The Ocean, then took a look at the Red Bull Studios stage where we would be playing on Sunday, we grabbed some festival food (beer and a burger) and took a look around the rest of the site.
After meeting up with some friends, it was finally time to watch Slipknot! They definitely set the bar for all the other bands. Rising platforms, pyrotechnics and of course the best tunes, everyone was loving it. The best part in the set though was the Paul Gray tribute, then when they played 'Psychosocial,' it started to rain, luckily the rain didn't kill us all. Such an awesome moment. With the rain here and the site sussed, we retreated to our tent and called it a night.
Saturday
After a restless night, loud campers and misleading sunlight, we all got up bright and early at 9. After finding out that even in the guest camping, the toilets would be covered in vomit and poo, we went to the Zippo stage to watch last years Red Bull Jam winners, I Divide, open up the second stage. They played an awesome set even with a stand in due to their guitarists arm being in a cast, he braved it for one song and jumped in at the end. We're looking forward to seeing the guys play again; if they come down South. Then a few of us caught Young Guns on the main stage.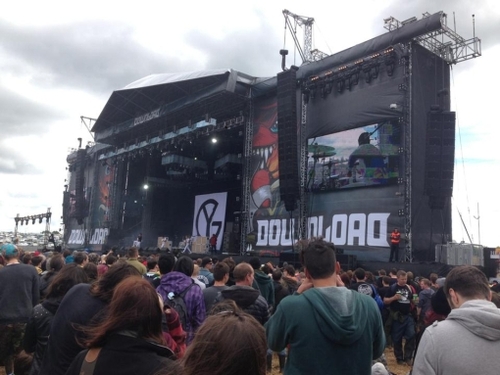 We thought we'd treat ourselves to a beer break as it had past midday, then made some new friends in the shape of the lovely guys from The First. Beer break over and back to the bands. For the rest of the afternoon, we were running about between stages to catch at least the first few or last few songs of each band. These included Sky Valley Mistress, Heart of a Coward, Bury Tomorrow – who sounded huge!, Searching Alaska, and our new friends in Press to Meco who were one of the tightest bands we'd seen all weekend, plus perfect harmonies, awesome.
We somehow managed to miss Jimmy Eat World which meant we missed the 'Sweetness' "woahs" and 'The Middle,' so we may have to see them when they're on tour.
After picking our phones up from the charging station (we love you Vodafone) we watched a very political Enter Shikari, then it was time to watch Iron Maiden who bought some awesome sing-a-longs with them and lots of merchandise; if anyone went to Download, they'll be able to confirm that Maiden was everywhere! They even had their own beer! After 'Run to the Hills' we went for a quick pint in the guest bar, then called it a night as we needed to get a decent sleep before our big day!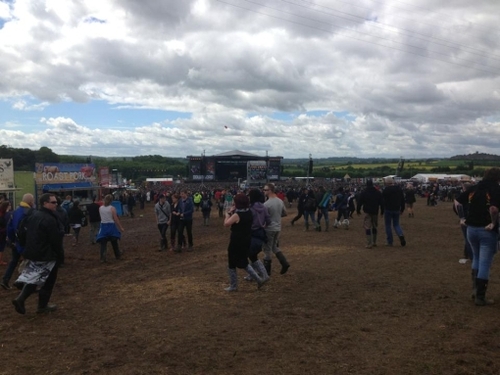 Sunday
Once again another early start thanks to misleading sunlight, 6am definitely looked like 10! It was lucky we woke up early though because even though it feels like we've only just got to Download it was time to pack up. I (Tash Crump – vocals) didn't feel too great that morning though, blocked nose and signs of a sore throat, I was worried for the day ahead which lead me to downing a very strong Bacardi Oakheart and Pepsi at 11am. Not exactly my best moment but hey, I needed my voice today!
Bags packed, we decided to catch The First quickly on the Red Bull Studios stage before we took down the tent. With the van packed up, we had to head to our stage to drop off our gear then the press area to do a couple of interviews. As a small band we weren't used to this, but I think we definitely could get used to it. As we walked into the press area, A Day To Remember casually walked past us which was very surreal (we were too shocked to grab a picture) and while we were doing press Corey Taylor was having a chat and a picture with a little boy (once again, no picture, we didn't wanna take him away from the kid, plus pretty starstruck.)
Press done, we quickly walked down to the Red Bull Stage (while listening to Parkway Drive slaying the main stage, gutted we missed them) to get ready in our dressing room. Next thing we know it's our turn to take the stage. We did quick warm ups and had little group huddle and it was time. I don't think the feeling of playing on that stage will ever leave, I've got a tattoo, one on each ankle that says 'Feel Alive' and I definitely have never felt more alive than on that stage, the best show we've ever played!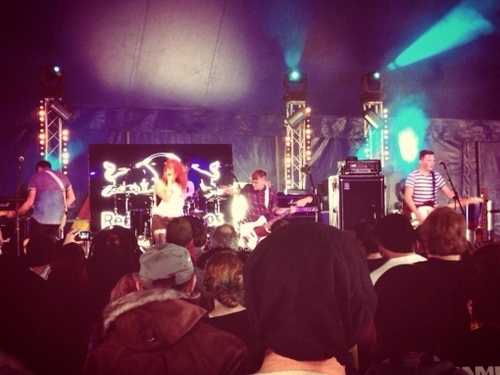 We hung about after our set had some beers and watched the lovely guys in Surrender the Coast. After that, we went to have dinner and me and Luke (Gould – bassist) were enjoying a roast and a couple of guys and a girl asked if they could sit with us, then while we're talking to them we find out that the guys are in The Gaslight Anthem. The rest of the band and some of their crew came and joined and we all sat there and had a chat about music and stuff. I can happily confirm that they are some of the most down to earth guys we have ever met, so lovely to meet a band like that of their size.
Before we went to see Limp Bizkit, we had a mini Red Bull studios reunion with Akord, Semperfi and Press to Meco. Plus a cheeky flash from the Semperfi guys to show me the tattoos on their bums they got for being #1 at the end of the Red Bull Studios live at Download competition.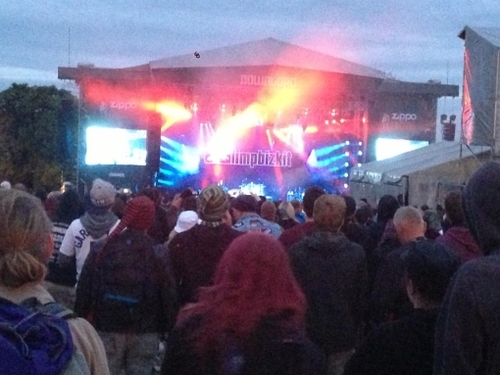 The festival was coming to an end and there were only 2 bands left so we watched Limp Bizkit then ended the weekend with an incredible but odd set from Rammstein which included lots of fire, special effects, sparks and massive dicks foaming all over the crowd!
After hanging around, having a drink and saying bye to a few new and old friends, we set off back home to Southampton at 2am. We had the best weekend and we can't thank Red Bull Studios London enough for giving us this opportunity. If we got asked back next year, we wouldn't even hesitate, it would be a straight up yes. Going back to work and reality sucks!
Forever Can Wait links: Facebook|Twitter
If you would like Already Heard to promote and sponsor your tour/show or set up a "Tour Tales" feature, send an e-mail to info@alreadyheard.com for more information.