Last month Mansfield motley crew No Honour teamed up with hometown mates The Winter Hill Syndicate and Birmingham lads Memories for a five date tour across England.
Vocalist Thomas Smith has treated Already Heard readers to an insight into the bands first UK tour in the latest edition of "Tour Tales." Find out what Thomas, Tom Lander (drums), Jord Kimbley (bass), Jimmy Hikin (guitar) and the rest of the bands got up to on their drunken escapades around the UK.
If you would like Already Heard to promote and sponsor your tour/show or set up a "Tour Tales" feature, send an e-mail to info@alreadyheard.com for more information.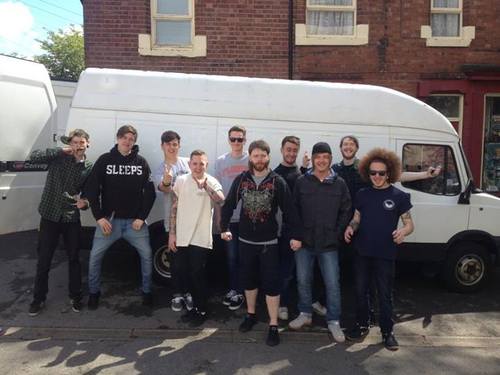 The Night Before Tour
We spent the day hanging with the boys we're going to be sharing the van with. It helps a lot being with your best mates for your first tour, the feeling building up to setting off tomorrow is insane, knowing that you're going to be putting 5 days of passion into the one thing you only enjoy doing couldn't come sooner, everything I've done has been full of excitement. It all really struck home when we picked the van up. (Big shout out to Laguna Sunrise!)
We were all feeling positive and content, knowing that tomorrow we set off for the first of five days. I can hardly sleep through excitement, even being under the weather through illness isn't stopping the positivity.
The only downfall is Ash (Swain – guitarist) isn't going to be with us. Proper gutted cause of this. But his decision to let us have someone fill in was so kind for him. (Shout out to Fretty in TWHS for learning our set in a few days!)
TOUR DOGS! LADS ON TOUR!
Day 1: Telford
With tour vibes are high and Alcoholic beverage in people's hands, we set off and I think by the time we got to Nottingham we all felt the booze. Picked up the last members for tour and set off to our first show at The Haygate in Telford.
By the time we arrived at the venue, most of the tour party were drunk and then remembered we had a show. We then played a banging show which was a bit of a laugh and then carried on drinking. 
We got back to the place we were crashing, and as soon as we pulled up the "chunder" (sick) started flowing. Alec (Radford) from TWHS threw up leading to Jord projectile vomiting all over. Didn't kill the mood though!
We made most of the night drinking. The first nights sleep wasn't too great, but when you're sleeping in a van you can't really expect any. Today consisted of drinking lots, singing more and sick. Definitely prefer tour life to normal life!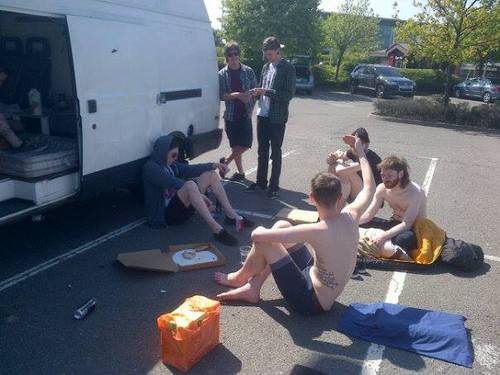 Day 2: Grantham/Mansfield 
Woke up feeling hungover to fuck and headed for McDonald's breakfast. Yes boys!
The journey to Grantham was pretty long, but we made the most of it by drinking a few beers. Some of the guys had the shits and the res of us were hungover. I also took the most disgusting Vitamin C.
We turned up to Grantham to find out the venue hadn't provided with half the equipment we were promised. The show got cancelled, but the legend he is Phillip Wilbraham (check out philbrahamaudio on Facebook for decent recordings) helped us out with a Mansfield show last minute.
It was probably the best sets we all played, even if  99% of us were a little tipsy.
After the show we partied with Memories and TWHS, had a 3am beat box to Michael Jackson and ended up spooning Crayg (Williams – Memories.)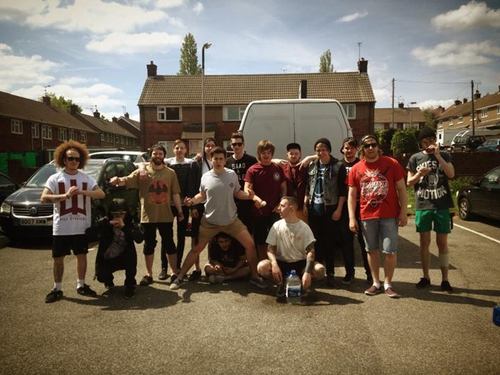 Day 3: Camden Town
I woke up to a banging game of football. Alec and Jord are pussies and stayed at home for the night. We were all stupidly excited to be heading for Camden Town. The drive involved a few beers and a talk about monkeys ripping humans hands off! 
The Camden show was… different. The girl who actually asked us to play wasn't allowed in the venue. The venue was 18+ but someone told her that she was able to get in as well as her friends. So we basically played to Goliath. Nevertheless the sound was awesome.
We have noticed how this tour has turned out to be disappointing due to poor promotion from promoters. I really hope that tomorrow is better.
Ending on a positive tonight, every band were tight as a nail and we headlined a city we've never played!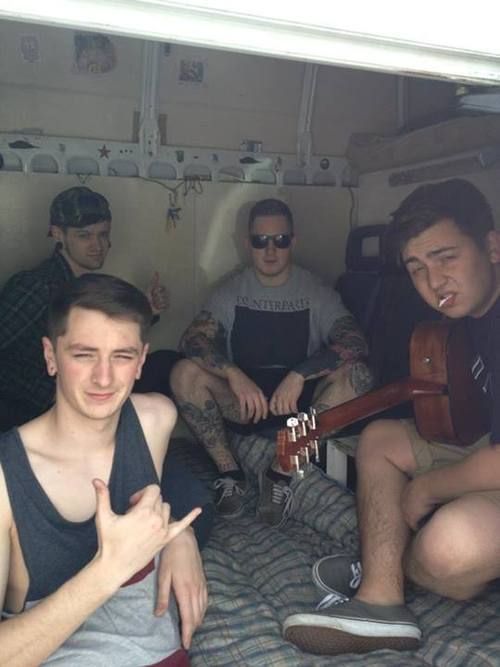 Day 4: Leicester
With just an hour of sleep, the fan is full of grumpy band members. Thankfully I got my head down on the drive to Leicester.
By Midday everyone's in good spirits and the party starts again.
Tonight we're playing with Skies In Motion. The turn out wasn't great but it was still a banging show. We partied hard and then I decided to sleep in the van. Although I woke up in the middle of the night to Spad spooning me.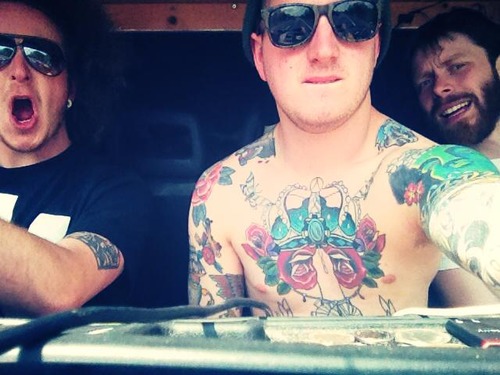 Day 5: Derby
The final day of tour! Pretty excited to party our last day.
We turned up to the venue and it was good to see a load of our mates, it was their first show for some of them. 
We played a proper good set, then Memories killed it (weren't hammered for a change) and TWHS were unreal. It was such a good final show!
The post-tour blues soon hit me when I got home; quietness, no smell of alcohol, not hanging with our lads and not hearing flo snore.
I WANT TO STAY ON TOUR!
No Honour links: Facebook|Bandcamp
If you would like Already Heard to promote and sponsor your tour/show or set up a "Tour Tales" feature, send an e-mail to info@alreadyheard.com