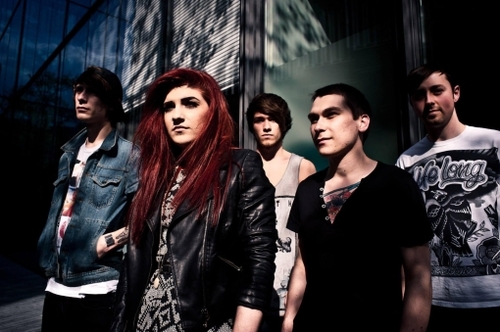 Having been voted as one of six bands to play the Red Bull Studio stage, rising Essex/Surrey alt-rockers Searching Alaska were ready to make their mark at this past months Download Festival.
In our latest installment of "Tour Tales," guitarist Jake Ringsell treated us to an exclusive insight in to what the five piece got up to as they made their Download debut.
If you would like Already Heard to promote and sponsor your tour/show or set up a "Tour Tales" feature, send an e-mail to info@alreadyheard.com for more information.
Friday 14th June
The Searching Alaska team and I arrived at Donnington Park around lunchtime on Friday. Although the weather was pissing it down, our excitement never let up – talking the entire journey about how crazy all this was. After parking up we began the perilous task of transferring our camping bags to the site and set up for the weekend. I for one, being the tart I am, had the heaviest bag of all – I tried to explain to them how one needs a variety of clothing at such an event; needless to say my band mates didn't agree.
James, our videographer for the weekend, took the role of camp building leader and ordered us like minions to erect the giant twelve-man tent. Due to the size of the tent we were forced to set up in uncomfortably close proximity with the camp's toilets. But still, even with the indecisive weather and now fresh odor of human waste, our spirits didn't falter. After becoming habituated to our smelly surroundings we cracked open a few beers, in my case rum, and chilled in our immaculately built tent.
By the time of the evening the band, James (videographer) and Charlotte (manager) were ready for some music and to explore what Download had to offer. We accidentally stumbled to the back of main stage where we found fellow Red Bull competition friends Akord! While speaking with the guys we suddenly clocked Bullet For My Valentine walking passed us to go on stage. I felt a phenomenal compulsion to fan girl in their general vicinity but held my shit together and we proceeded out front to watch their set. They blew me away with their face melting guitar solos and ridiculously tight vocals. 'Tears Don't Fall' had to be my favorite song of their set as it was such a huge song of my youth.
Following Bullet were Slipknot. I wasn't quite ready for what was about to come, so me, James and tour driver Rich topped ourselves up with some more of Download's beverages and prepared to be blown away and Slipknot did not disappoint. I couldn't believe how good Cory's vocals are live from his harrowing lows to his note perfect cleans not to mention the bands insane presence on the main stage. We ended the day with a fairly early night in the tent in preparation for our set the following day – excited doesn't quite cover it.
Saturday 15th June
After a crappy sleep squished between my bassist Damien and videographer James, Saturday was upon us – Searching Alaska's time to shine! We got to the backstage artist area section well ahead of schedule and so took time out to do some press and speak to some lovely people in the press tent. After the interviews we went backstage and prepared for our imminent set. As Christina (Rotondo – vocalist) rapidly did her make up me and the boys prepared with a cheeky beer and nervously jumped around with our unplugged instruments.
5pm came suddenly and it was time to sound check on the Red Bull stage. Walking out on a stage that size for the first time was so nerve racking but the lovely sound technicians put my mind at rest. After we sorted our sound we went backstage for what felt like seconds before it was finally time to play! I'll never forget to moment I walked out on stage to our intro blaring behind us. I grabbed my guitar, smiled at my band and readied myself for the first song. The sound was superb, like nothing I'd experienced before. I felt shaky at first but by the time we got to the first chorus I was in my element and trying my hardest not to smile my face off. After the set I just remember hugging Christina on stage as we'd just played to a full tent at Download Festival in a band we formed little under a year ago – proud doesn't cover it.
After the set we were whisked away for more press and interviews. We then went to artist catering to make the most of their lovely food. We found ourselves sitting next to Jimmy Eat World to eat, which was pretty crazy! Finally we regrouped with our friends at the campsite. We'd played our set, we'd done the interviews – now it was time to get messy and celebrate. I personally went for a mixture of cheap white rum and Tesco value coca cola, which I do not recommend by the way. The band and I, videographer, manager, tour driver and friends marched out feeling very merry into the VIP tent for the evening. Drinking along side the likes of Sikth, Don Broco and Escape The Fate was a lovely experience and one to be cherished. My memory of Saturday evening is a little hazy so I'll end by saying we met some wonderful people and shared some phenomenal memories.
Sunday 16th June
Hungover but happy we awoke to share tales of the night before – some stories better left out of this blog I feel. We watched a few bands on the Redbull stage such as Welsh lads – Falling With Style who were awesome! Afterwards we watched A Day To Remember who were a personal favourite for me. Before their set however, I must of seen about fifteen pairs of boobs on the big screen – I'd never seen anything like it. Girls just flashing because the camera was on them – top form Download Festival. After watching a few more bands we chilled in the press area and completed a few more interviews before heading back home.
Personally, the weekend was an unreal experience. I remember Saturday evening thinking how I never wanted the experience to end. I remember thinking how rubbish it'd be if we were never in this position again and so, more than anything, this weekend has motivated me as musician to write and push this band as far as humanly possible in the hope for more Download Festival like experiences.
Searching Alaska links: Facebook|Twitter|Youtube|Bandcamp
Our full coverage of Download Festival 2013 can be found here.