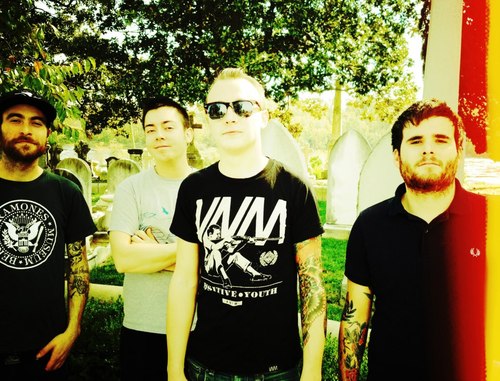 This week Toronto punk band The Flatliners head to the UK in support of their latest album 'Dead Language'. However the quartet has been touring round Mainland Europe for the majority of November, and thankfully for us here at Already Heard, the band has provided us with the first part in the latest of our "Tour Tales" feature.
If you would like Already Heard to promote and sponsor your tour/show or set up a "Tour Tales" feature, send an e-mail to info@alreadyheard.com for more information.
Vienna, Austria – Jon Darbey / Bass + Vocals
Day one.
So we arrived in Austria only to discover that all 11 bags that were supposed to have arrived with us have not. We're in Vienna. Our bags are in New York City. Our Friend Georg, our sound engineer and one of two drivers on this tour, picked us up from the airport and – without our stuff – off we went. This is the third time over the pond for us this year.
After spending some time at our hostel, sleeping off the rocky start and getting used to the time change, we headed to the venue and met up with our friends Adam and Rory – who are also on this run with us. Adam is our stage tech, and Rory is a bud we've brought over to help with merch on this trip. Today is Day 1 with one of our favourite bands to hang out with – Astpai (from Weiner Neusdadt, Austria) who we'll be on tour with for the next couple weeks. We said our hello's and loaded into the very small venue under a train station bridge called B72. We borrowed every last bit of Astpai's gear so we're able to play, since all our stuff was still in New York. It's a small venue, and the show was pretty damn fun but then again, it's always a great time playing with those Astpai dudes. Only thing is in Austria for some reason you can smoke everywhere so it was a little rough on the lungs, even for someone who smokes quite often. All in all though the show went well and then we stayed up at our hostel drinking beers and watching the Toronto Maple Leafs game. Scott and I actually just started smoking weed in the main room of the hostel after a while too… I think that may be a first. Sorry hostel!
Berlin, Germany – Scott Brigham / Guitar + Vocals
Everybody is very hungover from the night before in Hamburg. Joe from Smoke Or FIre surprised us all at the show last night and needless to say we all went out for a liquor fuelled, laugh fest. Because of this I slept right up until we arrived at the venue in Berlin. I also forgot that in a "drunken stupor" (made famous by Toronto's Mayor Rob Ford) I agreed to join Zock from Astpai in an acoustic Hold Steady cover set that afternoon in Berlin at the Ramones Museum. Due to the fact that the museum is one of my favourite places ever, and which is run by a super good buddy Flo, I could have a couple large delicious German beers to help my hangover. I was stoked.
Both the acoustic show and the evening show ended up being fantastic. A lot of friends came out and we ended up drinking Mexicana shots (think Bloody Mary but much saltier and each bar in Germany claims to have the best). Night starts to get blurry. Looking forward to sleeping all day tomorrow.
Paris, France – Paul Ramirez / Drums
Paris, the night off…
Cancelling a show is never an easy decision for a band. It comes with dire consequences and could really hurt a band's reputation. Our band has a very small list of shows we've had to bow out of but none that we decided to cancel after doors had opened.
We rolled up to the venue in Paris about 30 mins before doors because we got caught up in some crazy traffic. After we got to the venue we awoke a sleepy Chris from the bunk in our van to realize he was unable to speak. This really shook him and worried everyone…. We realized a decision to play or not had to be made as soon as possible to salvage the show for our friends in Astpai and the local bands also playing. After we had made the decision that Chris' well being is more important than any show, we headed out to a hotel to get him to bed and start his recovery. The rest of us were left with a Friday night off in Paris… So Rory Sylvester; our merch man extraordinaire, loveable Scott and myself took it upon ourselves to explore the city a little for a drink, or two…
A quick ride on the metro later and we arrived at Parmantier Station, which is surrounded by cool, intimate (AKA small) bars and lots of life. After one drink at the first bar we found appropriate, we took a walk for Rory to find cigarettes and perhaps another watering hole. We landed at a bar that reminded me of a bar back home called Ted's Collision… Basically it's a cramped, loud candle lit bar full of beer and young people. After a shared pitcher and a shot of Absinthe, we decide to head back to the metro station. We arrived at the station and found the gates closed. Somewhere in our plans for a fun night out, we forgot to check what time the metro ran until….
To keep warm we jumped into the closest kebab and crepe place we could see to grab provisions. Hailing a cab came to take longer than we had hoped but finally we snagged a ride home to our hotel.
All in all, a quiet but fun evening out in a city I don't know much about.
To our fans in Paris, we're all very sorry we had to pull out of (what I heard from our good friends in Astpai) ended up being a great sweaty punk show. I assure you we will be back, and will try to do something special for our loyal and respectful fans there.
Thanks for reading!
November
27th Glasgow The Audio
28th Manchester Star & Garter
29th Kingston The Peel
30th Brigthon The Hope
'Dead Language' by The Flatliners is out now on Fat Wreck Chords.