Last month Derbyshire sextet Violet teamed up with emerging Belgium rockers Now, Voyager for a UK and European tour, which saw the Violet return to Mainland Europe for the second time this year.
Already Heard has teamed up with the band to bring you this exclusive "Tour Tales" feature. The alt-rockers tell us what they got up to as they played shows in France and Belgium.
If you would like Already Heard to promote and sponsor your tour/show or set up a "Tour Tales" feature, send an e-mail to info@alreadyheard.com for more information.
Whats up guys, we're Violet and for the last 6 days we've been travelling mainland Europe as part of our tour with Now, Voyager. Here's a little write up of what we've been up to!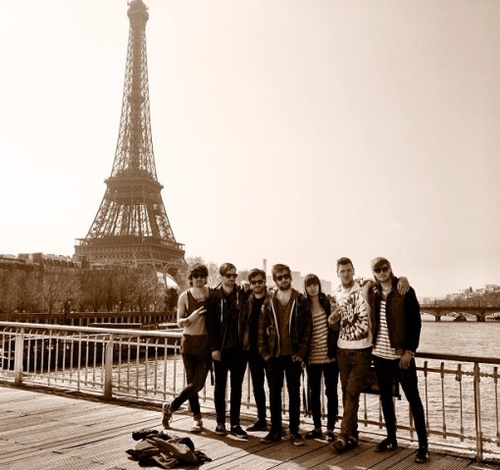 Day 1: Paris
We decided to get to France a day early so we could do a bit of sightseeing before the show which we all agree was a pretty good idea. We had one of the best days we've ever had as a band! We were lucky enough to see most of the sights in this beautiful city. Charlie (Bass – vocalist), Liam (Westnidge – Bass) and Kyle (our driver) went to the very top of the Eiffel Tower. Sam (Bass – guitar/vocals), Joe (Middleton – Guitar), Robbie (George – drums) and Jordan(Samuel – vocalist) became tourists for the day through the city with our friends Melody, Laura and Alexia. These guys treated us extremely well and we'd like to say if they're reading this then thank you! The sun came out for us and we wanted to stay there forever basically. On to the show.
Load in is pretty difficult in Paris. traffic is mental, and unfortunately the venue's in a pretty difficult spot, so we had to be quick and get out of the way asap. After that everything went pretty smoothly! The local support blew us away. Tahoe really grabbed our attention and we definitely recommend them so keep your ears open for when they release some material.
After a few warm ups and stretches it was time to get on stage and do what we came here to do, and as far as the first date of a tour goes, this was pretty good. The crowd seemed to receive us really well, we all played well and the vibes afterwards were all positive so all in all a win for us! After a little bit of a chill Now Voyager stepped up to the plate. Im sure everybody will say this but watching a band that you're about to travel the country with for the first time is quite an exciting experience, and Now, Voyager definitely delivered. After watching I'd say we were all excited to get this tour rolling and get to know the guys and their music a lot better.
Day 2: Hazebrouk
Hazebrouk is a pretty quiet place, the venue was cool, and we got treated well. After load-in we had a little walk around town and did a bit of window shopping at the the gun shop and it turns out that the French love their guns. And their crossbows. And their throwing stars. And of course their samurai swords.
We had mixed feelings about the show, but as always we all had fun and played our best. We bargained with the venue owner and in exchange for a free CD, he gave us beds for the night. Not a bad deal.
Here's a rundown of what occurred through the night: Lots of Lasagne.
Lots of jumping on a pile of mattresses.
The best drink in the world (French Oasis) again, lots of.
And Robbie blowing wind in Jordan's face. Twice. (Which I'm sure you'll agree is more than enough!)
Day 3: Roeeselare
After arriving in the town we had a wander and ended up in an American pool bar. A couple of games later Kyle decided to, in his own words, "'AVE IT LADS" and absolutely smash the black ball across the adjacent table, very nearly hitting a couple of girls. This was bloody hilarious and as a result the first quote of tour was born.
On to the show… We were playing in a place that resembled a student bar and the backstage was the bigger stage of the venue, which left us a tonne of room for such things as a huge game of click catch, British bulldog and tour bag curling.
The show was awesome, and apparently we impressed the photographer enough for her to let us stop at her place. Thalia if you're reading, thank you for letting us invade your house and sleep. Muchos Lovos. Before heading out though we were treated to a little night out at a 90's bar. It turned out to be the smallest place on earth. We discovered that the locals LOVE to dance, maybe too much.
Accommodation was awesome, and in the morning a battle began. The international Yu-Gi-Oh duel between Team UK (Robbie) and Team BELGIUM (Brian) Robbie lost. Horribly. Moving on.
Day 4: Lalouviere
On waking up we decided to take a quick detour to Bruges.Here's a tip, NEVER GO TO BRUGES IN A VEHICLE. EVER. It's horrendous for parking. After eventually finding somewhere to leave the van we walked into town. Bruges is absolutely breathtaking. We only went because we saw the film 'In Bruges' – watch it. It's awesome. After walking past the oddly placed tourist shop which sold nothing but WWE t-shirts, we met a guy dressed up as some kind of demon/devil kinda thing, and snapped a couple of pictures with him then went into the square.
We saw the sights of Bruges we came to see and proceeded to sit down with some chips in the middle of the town. After tucking in, Liam came over to tell us that Charlie was having his picture taken with about 10 girls because they thought he was a movie star. Brilliant.
Chaz then came and sat down with the rest of us and the girls almost circled us. Everyone knew that they wanted to come and say hello but they were too nervous because of the great presence that is "Movie star Charlie." They plucked up some courage and asked for a picture with all of us and we decided to roll with the illusion that Chaz was this famous dude and told the girls that we were just "his crew." Charlie will absolutely not let this go!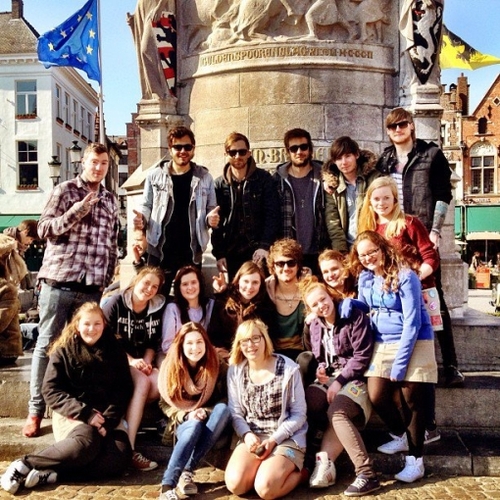 We arrived in Lalouviere and loaded in. The venue was ace and the square outside was beautiful! We had a little kick-about with Now, Voyager then went in for soundcheck. Soon after it was time to hit the stage and play the best show of the tour so far. Everyone had a wicked show and afterwards spirits were at there highest. We bunked down for the night ready for the drive tomorrow.
Day 5: Metz
It took us a good hour to find this venue after arriving in Metz. After eventually finding the place, we headed out for a walk about town and came across a public park which again was amazing. Everything in France is amazing. We ate some ice cream and nearly got into a fight with a rouge swan who separated from his posse just to apparently cause trouble with tourists. The rascal.
We hung out at the lake for a while then headed back to the venue for the usual load-in/soundcheck. Ate some pasta, chilled with Now Voyager in the bat cave then stepped up to play. The show was intimate but we went down well I think. Another show down, one left in Europe before we head back home and take the role of headliners.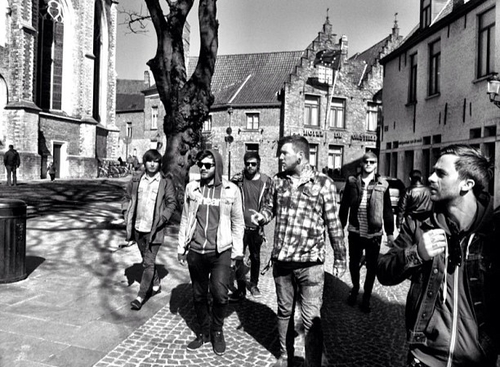 Day 6: Roubaix
Upon first arrival we had mixed feelings about how the show was gonna turn out. We're never one to judge but this town was pretty much a ghetto. We found the venue (which was actually really nice compared) and loaded in. The owner took us to a kebab shop for some food and after filling our stomachs with the local cuisine it was time to play.
With the show being our last in Europe on this tour we decided to go out with a bang and play the upcoming single. We can't wait for you guys to hear this, we're so proud of it. Shooting for the video begins as soon as this tours over so keep your eyes peeled.
Now, Voyager took the stage and treated the crowd to their own brand of intense metal and melodic combos, honestly, watch these guys if you get the chance. They're something else!
After loading out we headed to Calais port to crash in the van for the night. Ferry at 9am the following day. See you later Europe.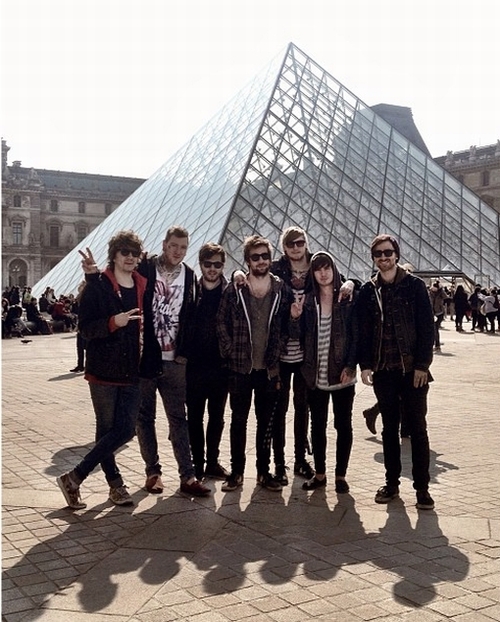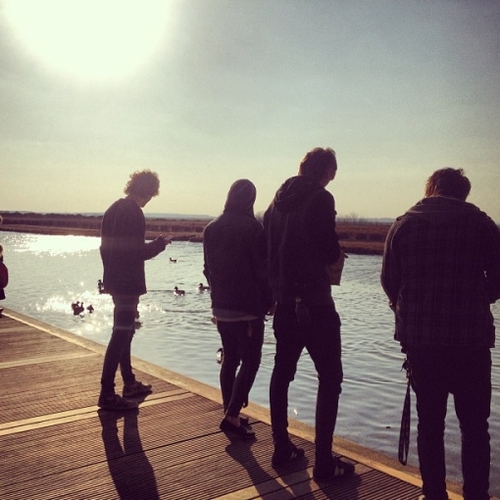 Violet are currently on a UK tour with Dance Gavin Dance, Closure In Moscow, and Affiance.
May
10 White Rabbit, Plymouth
11 Takedown Festival, Southampton 
12 Hobo's, Bridgend 
13 The Vault, Rugby 
14 NQ Live, Manchester
16 The Classic Grand, Glasgow
17 Rock City, Nottingham 
18 The Garage, London 
19 The Westcoast Bar, Margate
Violet links: Facebook|Twitter
If you would like Already Heard to promote and sponsor your tour/show or set up a "Tour Tales" feature, send an e-mail to info@alreadyheard.com for more information.