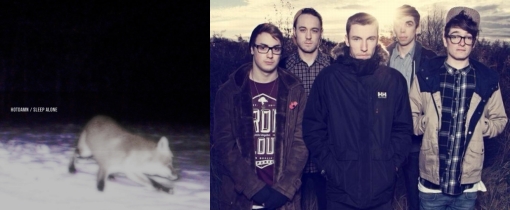 We can't get enough of South Wales' Hot Damn at the moment. Their upcoming mini-album 'Sleep Alone,' a collection of confident, self-assured songs with a slight pop punk edge.
Due to be released on 26th March through We Are Triumphant, the quartet has teamed up with Already Heard to give us an insight into the release with this exclusive "Track Guide" feature.
In addition we're also premiering a new song called 'My Life In Your Eyes.' 
Read on to find out more about 'Sleep Alone' and to exclusively stream 'My Life In Your Eyes.' 
Sleep Alone is our third release and is easily our most honest record to date; it just identifies the problems we go through as individuals and just like any other band, we put these feelings into our lyrics and music. We are all still a bunch of young guys and really try and relate to our fans through the songs as we are pretty sure everyone has the same issues at some point in their lives.
We are extremely happy with the record and the way we have arranged the songs, we couldn't be happier as a band right now and we are so proud of what we are about to put out.
Sincerity
This is the opening track to the record and its the shortest song we've ever made. It started off as an intro but quickly became a full band track after several melodies just came naturally to the track in the initial writing process. The track is really about just leaving something you love, its a mixture of regret and knowing you messed up but you've lost something you truly care about, living so far away from the person you care most about sucks and if you fuck up then you have no idea when its going to get fixed. We all contributed to the lyrics to this track as we all felt we had our own input in relation to the topic.
Worn Out
This was one of the last tracks we wrote and we left it really tight before our studio date to finish it, the track is so different to anything we have ever released before so we knew it was worth a spot on the record as it really keeps things fresh and shows a natural progression from our last release. The lyrics are about someone being dealt some advice that really changes you for the better and puts other people choices in perspective to your own, everyone knows the feeling of making a decision and having no one around you at that time to guide you from right and wrong and how that can leave someone in a dark place that's hard to get out of. Our singer Chris wrote the lyrics about his grandfather giving him some wise words when he was younger, the rest of the lyrics came from the first opening lines.
My Life In Your Eyes
We had been sitting on this track musically for a while as our guitarist Morgan writes most of the songs and adds changes things as we get closer to the recording process. As cliche as it sounds, the track is just about an old relationship that was going nowhere fast and only one person could see it was falling apart, the lyrics "If sorry is all you can say, how can you say I love you everyday" and "I'm running myself into the ground" really show that things were taking a turn for the worst and hiding away from something that doesn't make you happy isn't always the way to deal with things. Lyrically this all came naturally to us as a hell of people have had some bullshit relationships that really take over your life and the people that really matter, friends and family are all forgotten, when in reality those people are the ones who you really need.
I'd Hate Me Too
This was the easily the hardest track to record as we used a different tuning and its a really light song so all the guitars and amps were changed around to take that harsh edge of things. This was one of the first tracks we perfected as a band and we started demoing it with vocals months before the studio. The track deals with simply being a kid, the problems that people face when they are single parents, the strain of not having a father figure in your life and keeping all this emotion locked inside you. The song is about a mother who is so wrapped up in her own life that she forgets about whats really important to her, she hides her problems but in reality its the ones around her that are hurting the most. The lyrics "It's in the back of my mind, It's on the tip of my tongue" and "I spoke to you on the steps buy your back door, you said everything works out eventually, but you lied to me, but then I found the letters to your father they said i'm used up and worn out, so bury me when i'm twenty three" really show the pain of not having someone close to you as a child.
Sleep Alone
This is one of the more "Pop Punky" tracks on the record, the sound really reflects our last record and the track kind of picks up from were the last record ended sound wise. The track follows on from 'I'd Hate Me Too' because the lyrics are very similar, it deals with having an abusive father that has no love for his son, a father that would choose alcohol and drugs over the ones that love him, it tells the story of a boy who is desperate to get his fathers life back on track and to show him the love he has for him. "When I look into my fathers eyes I see a broken place where hope resides, this comes as no surprise I see a broken man with a broken spine" reflects on how the boy looks at his father and eventually understands he wants to be nothing like him. " I'm always walking in your footsteps, claiming you all I want to be, So take some pride in yourself, and realise your everything to me" Again these lyrics show how he is desperate for change and to have that father figure back in his life. The track features our very close friend Killian Johnson from a band called Cardinals.
I Am Not An Island
This is a song that we played around with a lot during the rehearsal process, we chopped and changed a lot of the guitars and played with the vocal melodies until we were all happy with how it sounded. This is definitely the grungiest song on the record and again like 'Worn Out' its quite a different sound for us as band, I think that's why we chose it for our first video. The song is about feeling like every day is the same and feeling like nothing will change, being tired of the same old arguments and not being able to break out of a hopeless habit.
'Sleep Alone' by Hot Damn is released on 26th March through We Are Triumphant.
Hot Damn links: Facebook|Twitter|Bandcamp|"Recommends" Interview