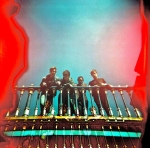 Turbogeist have announced a release show for their forthcoming 'Ancient Secrets' EP on March 11th 2013 at The Blackheart, London.
Everyone attending the show will receive a 7" consisting of two tracks; 'Mermaids Revenge' and 'Black Hole'.
Read our review of 'Ancient Secrets' here.
'Ancient Secrets' by Turbogeist is out on the 11th March via Spinefarm Records.