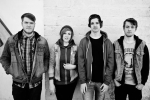 The much anticipated debut full-length from Cornwell's Vales will be called 'Wilt & Rise' and is set to finally be released digitally on 18th February through 6131 Records.
Fist In The Air Records will be pressing the album on vinyl in March.
1.
Dead Wood
2.
Scripted
3.
Open Arms
4.
Survival
5.
Katrina
6.
Branches
7.
White Horse
8.
Respite
9.
Wildfire
10.
Waterfalls
Two songs from the record including a new track, 'Dead Wood' can be streamed by clicking read more.