This weekend the Vans Warped Tour makes it return to the UK for the second year running, and this year its even bigger with over 50 acts taking over London's Alexandria Palace for two jam-packed days of music and skateboarding.
As always Kevin Lyman (Warped Tour founder) and com hasn't disappointed by delivering a stellar line-up that stretches across the alternative rock scene. From pop-punk to metal core to hip-hip to everything in-between and more, Vans Warped Tour UK 2014 is bound to be another success but with so much choice over the two days, who should you go and see?
Well let Already Heard help you out as we highlight ten must-see acts to see this weekend.
Who are you looking forward to seeing at Vans Warped Tour UK? Let us know on Facebook, Twitter or in the comments below.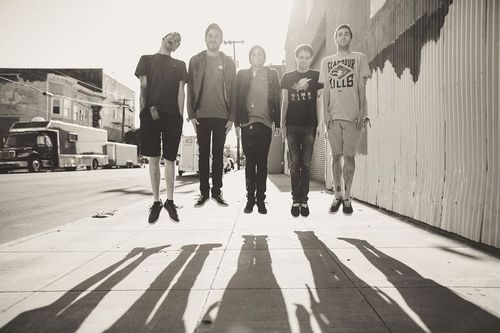 Real Friends
This is the first time Real Friends have ever toured the UK, and the Warped Tour is their only London date, so get ahead of the curve and check them out. For those who aren't in the know, Real Friends fall on the more serious end of the pop-punk spectrum, similar to The Wonder Years but more 'friends and heartbreak and my dog' than all encompassing issues.
They're infamous for using the lines "Sleepy eyes and bony knees" in the majority of their songs, a gem for those who love a slogan and a massive annoyance to myself (I'm a stickler for repetition). For anyone remotely interested in pop-punk they're well worth checking out, I'd also suggest learning the chorus to 'Anchor Down' so that you can scream it back and enjoy an extra bit of audience satisfaction. (JS)
When: Saturday 17th November.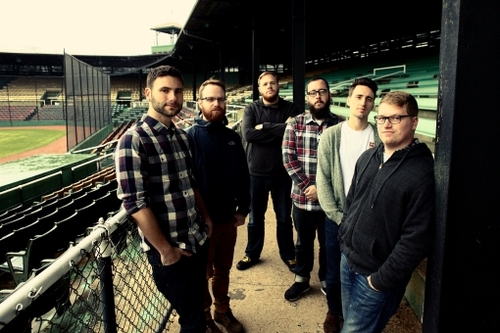 The Wonder Years
The golden boys of the pop-punk scene, The Wonder Years have finally returned to our shores after a successful set at Slam Dunk Festival left us desperate for a full tour. With a six month break since 'The Greatest Generation's release, there's been plenty of time for lyrics to be learned and the pure brilliance of the album to soak in.
A strong contender for album of the year for many people, this set is guaranteed to be a sing-a-long, and despite Alexandra Palace doing all they can to deter crowd surfing, I doubt they'll be able to curb the tide during their set. Singer Soupy is the definition of Napoleon syndrome, so despite his tiny stature, you can expect him to unleash a whirlwind of emotion as he pours his heart on stage.
Of course, it's not just about the new songs, and personally I'm hoping for a blend of their last three albums (but not Get Stoked on It, they can keep that). If they finish with a one-two punch of 'Melrose Diner' and 'Passing Through A Screen Door', that would make my weekend. (JS)
When: Saturday 17th November.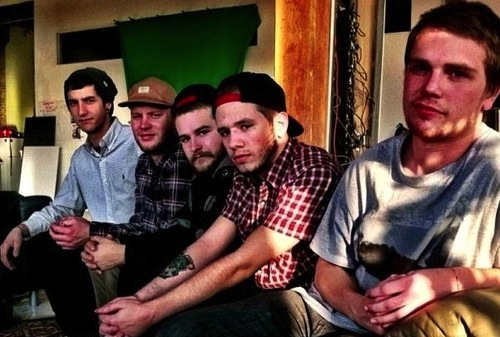 Handguns
Another band from this year's Slam Dunk bill, I was lucky enough to see Handguns squashed into a Hatfield attic and it was one of the most fun sets of the day. Their latest album may be pretty weak but as long as they stick to a set that picks across all their material, it's sure to be a winner. I'm hoping they'll be placed on one of the smaller stages, as the main stage will engulf them, but with an extra acoustic performance in the new Punktastic Acoustic Basement, it looks like I'll get to have my cake and eat it.
Expect the poppiest of pop-punk songs, cheesy rhyming lyrics and a lot of jumping around. Bring your mates, bring a beer, their set is guaranteed to be a lot of fun. (JS)
When: Saturday 17th November.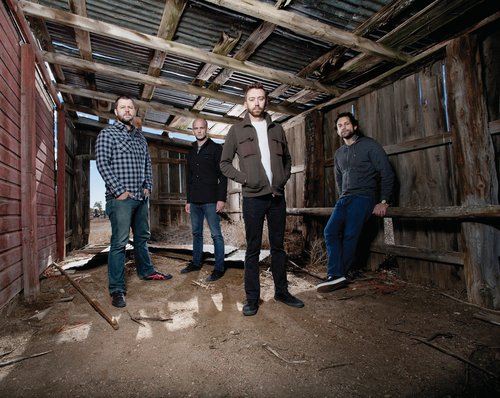 Rise Against
Do you really need a reason to see Rise Against? One of the most infinitely successful punk bands, Rise Against have gone from strength to strength across their fourteen year career. Whether your into their early fast-paced punk stuff or the more radio-friendly (yet still politically charged) tracks of 2011's release 'Endgame' they'll be a crowd-pleaser in there for you. I saw them at Groezrock earlier this year, and their lengthy headlining set reminded me just how many great songs they have and how they've undoubtedly influenced newer bands.
Playing both days of the festival, and I'm planning to watch both I'm that keen; hopefully they'll take the opportunity to play two completely different sets. Hopefully this will mean more old songs, forgotten classics and maybe even an album or two in full. I'm hoping that they'll be a surprise acoustic section to their set, not just for the inescapable 'Swing Life Away' but also the chance to hear 'For Keira', Tim McIlrath's contribution to the Tony Sly tribute album. (JS)
When: Saturday 17th November and Sunday 18th November.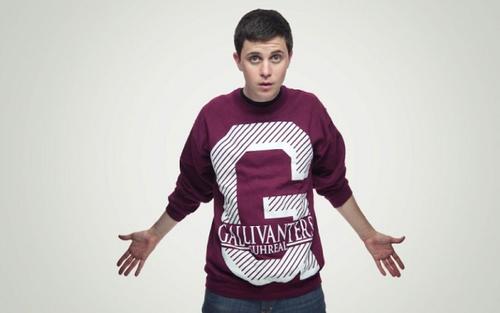 Watsky
Watsky, who is undoubtedly a sore-thumb sticking out of the Warped Tour line up on paper, is a rapper and poet from California. His popularity, like many who perform comedy or alternative hip hop, grew through his YouTube videos – most notably the video "Watsky raps fast" in which he demonstrates in a small 1 and a half minute song just exactly what it is he's capable doing with his mind and voice. Unnaturally fast rapping isn't all you get from Watsky though, he is also incredibly clever and his word play is up there with the best of them. Some of the stand out lyrics of his, for me, being; "I'll be flipping birds like a chicken breast on a spatula"; "I can tell the time of day without a diamond on my wrist, don't give a _ about your Rolly's price" and "Show me someone who says they got no baggage, I'll show you somebody whose got no story".
With the release of his latest album 'Cardboard Castles' earlier this year (which features a collaboration with Kate Nash – who saw that coming?), Watsky has been on a European tour starting in October which will be landing in London for the Warped Tour this weekend. Don't let his Michael Cera looks fool you, as well as being amazingly talented his live show is energetic and extremely fun and it's due to this that he actually fits quite well on the Warped Tour line up. Just watch his live compilation video for the track 'IDAF' and I guarantee you'll see more stage dives and high fives than you saw at the pop punk show you were at last night. (JH)
When: Sunday 18th November.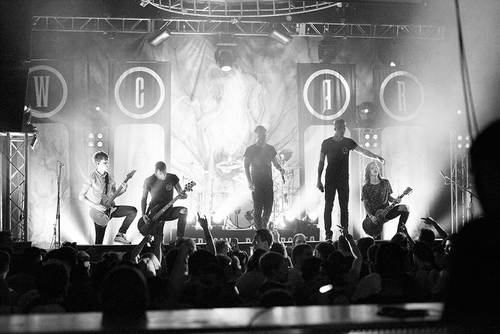 We Came As Romans
This Michigan melodic metalcore sextet surprised a few earlier this year with their brilliant third LP, 'Tracing Back Roots'. With pummelling drums, fitting breakdowns, subtle electronics and plenty of huge choruses, WCAR are a great fit for Warped Tour. Whilst others in the genre come off as predictable and close-minded, tracks like 'Fade Away' and 'Hope' show We Came As Romans are a band with plenty of potential to expand. Their sound is sharp, focused and after you see them this weekend, you'll realise We Came As Romans are definitely more than your average metalcore band. (SR)
When: Saturday 17th November.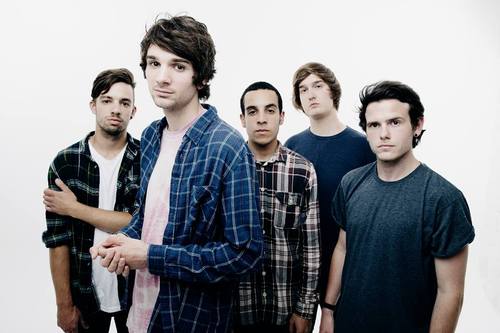 Decade
The emergence of Bath's Decade has been happening for the best part of 18 months, and having recently completed a tour alongside Tonight Alive, the five-piece are certainly in for a busy 12 months. With much anticipated debut album 'Good Luck' set to be released in the new year, Warped Tour is certainly a great time to familiarise yourself with Decade's brand of feel-good pop punk; soaring choruses and passionate lyrics.
One thing for sure is that they give their US counterparts a run for their money, and are definitely leading the UK pop punk scene forward into 2014. Get to know Decade now because you'll be hearing a lot more of them soon enough. (SR)
When: Sunday 18th November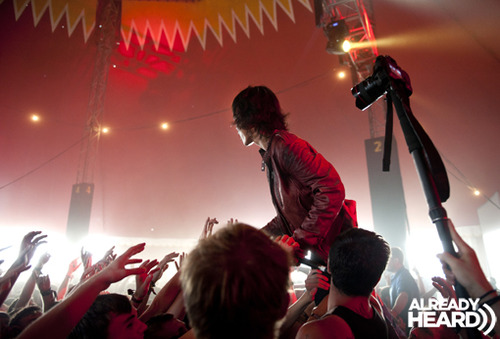 Photo by Sarah Louise Bennett.
Crossfaith
Returning for the second consecutive year, Japan's Crossfaith have had a jam-packed 12 months. Having joined Search and Destroy Records to touring with Bring Me The Horizon before spending the summer in the States on Warped Tour, they topped it off in September with the release of 'Apocalyze'.
If you haven't seen Crossfaith yet then expect to see complete and utter chaos as they come full circle this weekend. With abrasive metal riffs and the electronic sensibilities of Prodigy and Pendulum, the Osaka group are unique, frantic and come with tons of energy. (SR)
When: Saturday 17th November.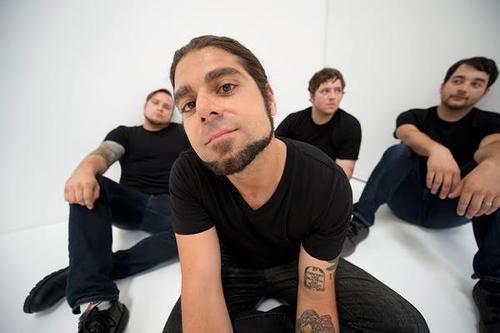 Coheed & Cambria
Coheed and Cambria are at this point one of the older bands on the lineup, with 6 albums (or 7, depending on how you think of 'The Afterman') and a whole science fiction fantasy universe under their belt. Don't worry though, you don't need to be a sci-fi comic scholar to enjoy them live: their tightness and technical proficiency, not least in Claudio Sanchez' breathtaking Geddy Lee-esque vocals, is up there with their prog-rock forefathers and if that doesn't sound appealing then their roots in pop-punk and emo and their frequent forays into metal are more than likely to appeal to most of the Warped Tour crowd in some way, shape or form. For everyone else, you can marvel at Claudio's hair. (BK)
When: Sunday 17th November.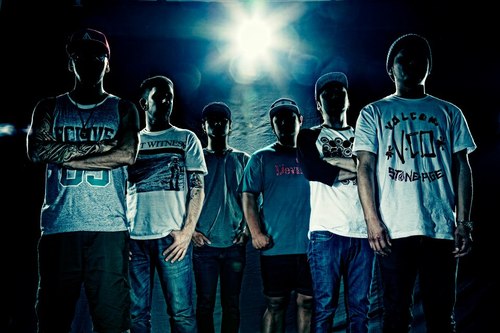 FACT
FACT are certainly one of, if not the most exciting acts on the entire lineup. The japanese band blends elements of j-rock, post-hardcore, pop-punk and metal with virtuoso skill and manages to make it not sound like a cheesy, mis-matched mess – not an easy feat. Their music combines manic and dissonant riffs with heartfelt choruses and do so with deadly precision and an affinity for blast beats that you don't hear much outside of the dark, misty realms of black metal. They don't come over here particularly often so it's always best to catch them while you can, including at their pre-Warped Tour headline show at the Black Heart in Camden on 15th November. (BK)
When: Saturday 16th November.
Vans Warped Tour UK links: Official Website|Facebook|Twitter
Words by Sean Reid (SR), Jay Sullivan (JS), Joe Hart (JH) and Ben Kosma (BK).