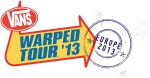 After a successful one-day event late last year, the Vans Warped Tour will be returning to the UK in November and will be expanding to two days.
Vans Warped Tour UK will take place on November 16th and 17th and will once again take place at London's Alexandra Palace.
In addition the touring festival will be expand into Europe for a series of stand-alone Vans Warped Tour dates.
Although no bands are yet to be announced, a limited number of two-day early bird tickets are available for a discounted price of just £70 (+ booking fee).
Tickets can be purchased from VansWarpedTourUK.com.