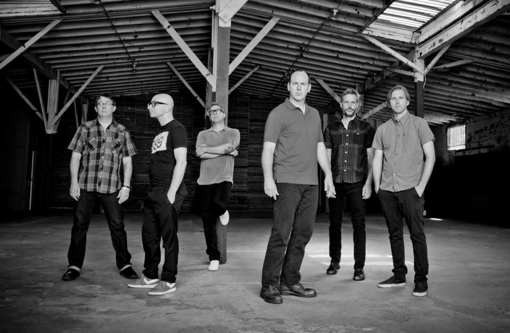 A major punk band dealing in political and religious based songs, Bad Religion have been around for over 30 years and it's no surprise that their discography is an absolutely extensive collection, with latest release 'True North' showing that the band are still alive and well. Being around for as long as they have means they've influenced plenty of modern bands who have over 25 years to go until they can match the longevity of Bad Religion. So, who better to join in this weeks 'Versus' than some of those influenced by the band!
With such a deep back catalogue, we couldn't make this your typical one on one, so we've made it a three way with our very own Aaron Lohan writing for 'Suffer' as Richie Cooper of Dead Beat gets nostalgic over 'Stranger Than Fiction' and Ryan Syrett of Tonight We Ride will be defending 'No Control'.
Take it away gentlemen.
'Suffer' (by Aaron Lohan)
I've always found it important to trace back the roots of bands that I love; how they came to be and who gave them the ingredients to become perfect in the first place. Such interest and curiousity has led me to discover many great bands, Bad Religion being one of them. It wasn't that long ago when I opened the doors and passageways to this band, at the time I was a huge fan (and still am) of Alkaline Trio and Rise Against; every so often the name 'Bad Religion' would crop up when I was reading about some of my favourite punk bands or watching punk documentaries. After taking this as a sign, I plugged in and tuned myself out from the world into the urgency of the band's seminal landmark record, 'Suffer'; according to Fat Mike from NOFX, this was "the record that changed everything." This was certainly the case when I switched the first track on.
The basic facts about 'Suffer' are the following: it was the first release for the renowned Epitaph records owned by guitarist Brett Gurewitz; it was released in 1988, the first record the band made after five years of being on hiatus; and it was recorded and mixed within 8 days, the results of which birthed a punk rock masterpiece. How is it a masterpiece you ask? 'Suffer' is filled with melodic hooks that'll latch on to the joints of your skeleton, soaring choruses that'll have you singing along to lyrics that make you think without even releasing it, and a fast paced urgency which automatically drives you to the core of everything that one should love about music.
Greg Graffin's lyrics are thought provoking, socially and politically aware, and are timeless providing a relevance that few can muster. Covering areas including government corruption and uselessness ('You Are (the Government)' and 'What Can You Do?'); human ignorance and downfall ('When?'); and societal expectations ('Best for You') you feel rest assured by how on point Graffin is with his words, especially for those who are lost and don't have the words to describe or criticise the world around them; this band is the spokesman, and more importantly, this record is their testament.
As previously mentioned, the choruses soar with a catchy straight to the point aura, full of deep meaning. For instance a line like "the masses of humanity have always had to suffer" is concrete proof of this. Songs like 'Do What You Want' illustrate the following sentiment, where there's melody, there is bite which fuels a stream train entitled 'common sense'. There has been many an occasion when I've been listening to this record, and I've just wanted to take a stand, and explain to the passing drones on what's what and provide solutions on how to solve such problems.
Reading over everything that I've written about 'Suffer', I can sit here and firmly agree with myself that out of 16 albums, this is the record that defines Bad Religion and this where you should start.
'No Control' (by Ryan Syrett of Tonight, We Ride)
Like most punk rock kids growing up in the pre-internet world of the late 90's my musical taste was heavily influenced by the old Epitaph 'Punk-O-Rama' compilations. For about five quid a pop these little beauties would serve up some proper musical gems that would go on to become me and my friends summer anthems for that year. Crackers like '1998' by Rancid, 'Good Rats' by Dropkick Murphys and 'Faster Than The World' by H20 brought my small bunch of seventeen year old of patch wearing, special brew drinking, soap mohawking mates closer to what we deemed to be proper punk rock.
However, there was one band named Bad Religion who was on pretty much every Epitaph compilation that never really did it for me. Despite having one of the best names in the history of band(-om?) and having one of the most iconic logos of all time, there was something about melodic punk rock that just never really did it for me. I imagine that due to being young and impressionable I gravitated towards the bigger shock factor of full sleeve tattoos, coloured hair and a more aggressive form of punk but in honesty, it wasn't fleeting youth, I still love that type of music to this very day.
At the turn of the new millennium Epitaph shifted their releases to a more melodic form of punk rock and I was forced to start back tracking through some of the older compilations that were more in tune with my taste. I brought 'Punk-O-Rama 3' at my local music store and chucked into my CD player. Everything was going fairly standard with great tunes from bands like Agnostic Front and Dwarves until suddenly a load of new/old music started cranking out by some bands I've never heard of, being honest bands like Gas Huffer and The Humpers never meant shit to me but I gave them the benefit of the doubt and listened to the whole tracks before throwing them out of my mind. This repeated a couple more times with the back end of 'Punk-O-Rama 3'.
I was just about to lose faith and take the disc out of my CD player until suddenly my speakers started to pump out this fast no-nonsense style, dirty old school punk rock beat. After about 10 seconds into the song the lyrics "There's a places where everyone can be happy, it's the most beautiful place in the whole fucking world" came booming out of my speaker and I forced to sit up and listen. It was at the point I realised that the vocals were incredibly familiar but the music behind it was more hostile, more youthful, and in many ways slacker but in a focused kind of way. I checked the back of the CD case to find the track named 'You' (The track on Tony Hawk's Pro Skater 2), low and behold the band cranking out this remarkably direct, powerful music were the same band I've been ignoring for years and finally I was realising what the big fuss was about.
I ran into town and checked out our luckily well stocked high street music stores and after rummaging through an eternity of Bad Religion albums trying to match the song title 'You' to the back sleeve I came across the 1989 released album named 'No Control'. Upon getting it home pretty much every song was banger, with huge angst filled chorus' and crafted with honest simplicity. Special nods on the album go towards the title track, 'Big Bang', 'Automatic Man' and 'I Want To Conquer The World' and even bigger nods go to Bad Religion for helping me to become more accepting of the power of melodic hardcore punk rock.
'Stranger Than Fiction' (by Richie Cooper – Dead Beat)
My introduction to Bad Religion was when I was about 16. At that time I listened to a lot of metal, with Slayer being my favourite band of choice (still love them now). My friend Ant had a shitty green mini with a tape deck and played me 'Anesthesia' from 'Against The Grain'. I loved the timing of this song, and it was different to what I usually listened to which was fast riffs and lead work on the guitars and aggressive vocals; this was fast strum power chords and melody with vocal harmonies and thought provoking lyrics. That day changed my life forever. We used to blast that album out everyday and try and write songs like it. Great times. Ant took his own life in the end; such a waste of a brilliant person, I just wished he realised that.
From then on i was a "punk". It suited the way i felt at the time (and now). I was full of energy and questions and this music did something to me that no other genre has made me feel even to this day. Bad Religion are staple in my music collection and there's not a week that goes by I don't listen to them.
Ok, so my favourite Bad Religion album is 'Stranger Than Fiction'. I was about 17/18 i think, jamming with my mate simon in his tiny bedroom with his bass and my strat. One day i turned up with this and we were jumping all over the place laughing our heads off at how good it was! The harmonies on this album just do it for me, man. 'Tiny Voices' in particular is awesome on this album. Greg Graffin sings a verse with a low harmony underneath it that's haunting, and the chorus is killer; "you're better off dead, a smile on the lips and a hole in the head". Genius stuff.
I love it on my iPod ,in a club ,in my car or just in my head! it pumps me up. I listen with my fists clenched and on the balls of my feet; not many albums do that to me. This album has my favourite lyric of all time on the song 'Incomplete'; "This madness, shoots me, like bullets smashing glass in a silent movie". These lyrics really get you thinking. I listen to this and sometimes close my eyes and imagine what he's singing; I see the glass smash and make the sound in my head. He's a poet in my opinion.
Sometimes you get an album that is perfect from start to finish. It don't happen often but this, for me, is perfection, and that's all that matters. Sure, everyone will have an opinion, but I cant fault it at all. 
These guys have something to say ,even today (maybe even more so!) and they use the platform they have and I think people will always love a Bad Religion show. These dudes will be doing this until they physically can't anymore… I hope. 
For me this album has everything I want; speed, melody, hooks and energy.