As rock and metal continues to feel increasingly marginalized at major festivals, Download, the legendary Mecca of metal, is becoming the one truly gargantuan focus for heavy music during festival season. With a die-hard and opinionated fan base, it's a festival that sees its organizers under more pressure than any other to get the lineup just right, creating a perfect storm of scrutiny and expectation for giants of the past to headline year after year.
Headliners don't get much bigger, or hail from a prime as long past as two of this year's marquee acts, so there was plenty of pressure on the array of the old guard and veteran ticket sellers to deliver at rock's biggest surviving stage in the UK. So would they manage it and would any younger acts step up to stake their claim as future bill toppers? Let's find out.
Friday 8th June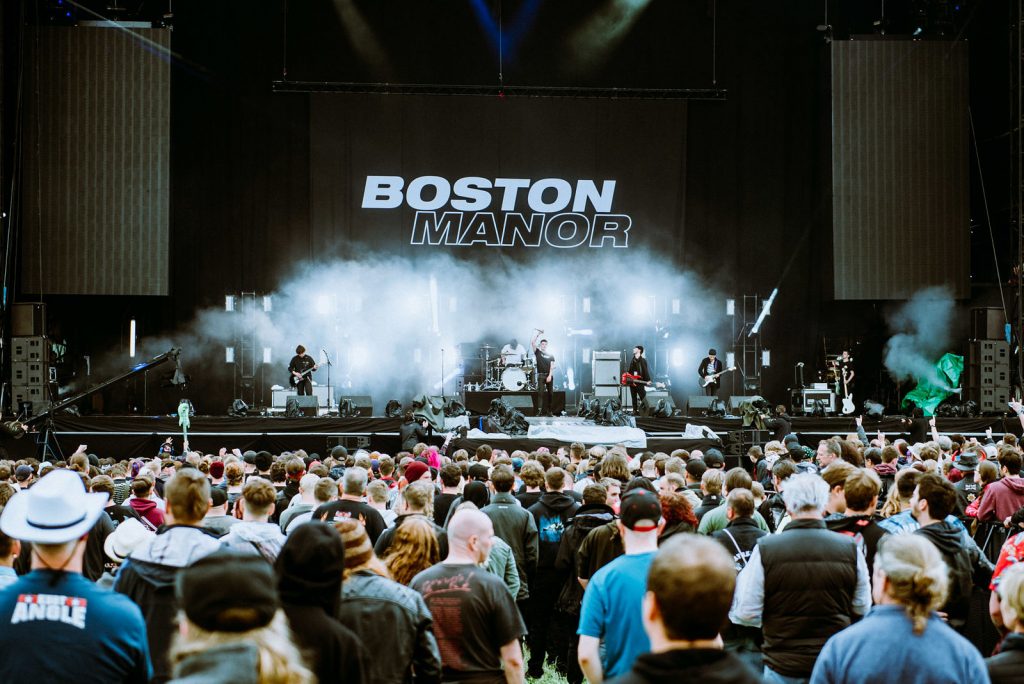 Whether its dedicated fans or merely curious folk wandering around the field, Boston Manor (4/5) have the honour of kicking off the main stage of Download 2018. For those witnessing the Blackpool quintet for the first time, this was the perfect introduction. With select cuts from their outstanding debut LP, 'Be Nothing.' alongside the first single ('Halo') from its follow up, Boston Manor's energetic style, soaring hooks and frontman Henry Cox's confident presence made for a strong outing as they begin the album cycle for 'Welcome To The Neighbourhood'. (SR)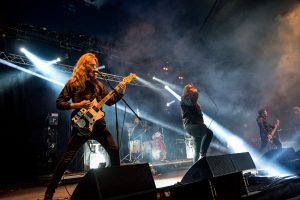 Download day one may still be rumbling into life, but the aggression with which Employed To Serve (4/5) attack their set gets an impressively busy Avalanche stage pumped up and ready to tear throats out within moments. Relentless waves of precision riffing batter the senses, however, it's vocalist Justine who makes the strongest impression. She's a genuine force of nature and owns the occasion effortlessly. (DW)
Few bands on the planet deliver grandiose metal anthems quite like Dragonforce (3.5/5) and the Download mainstays were on solid form here. Titanic solos and towering vocals are exactly what a main stage set at this festival is all about and this one delivered all of that. Frontman Marc Hudson's top-notch showmanship and sublime falsettos proved to be the icing on the cake leaving thousands of metalheads very happy indeed, even with a few technical hitches delaying proceedings. Everything is back on track in time for the always epic 'Through The Fire and Flames' to bring the set to a dazzling close. (DW)
Playing major festival stages is quickly becoming second nature for Marmozets (3.5/5), and it clearly shows. Having made an impressive comeback with 'Knowing What You Know Now' at the start of the year, Bingley's finest are on top form with Becca McIntyre's vocal prowess as impressive as ever. Although the expanse of the main stage lacks the frenzied intimacy of their own shows, with highlights such as 'Move, Shake, Hide', and 'Captivate You,' Marmozets have the songs to leave an impression. (SR)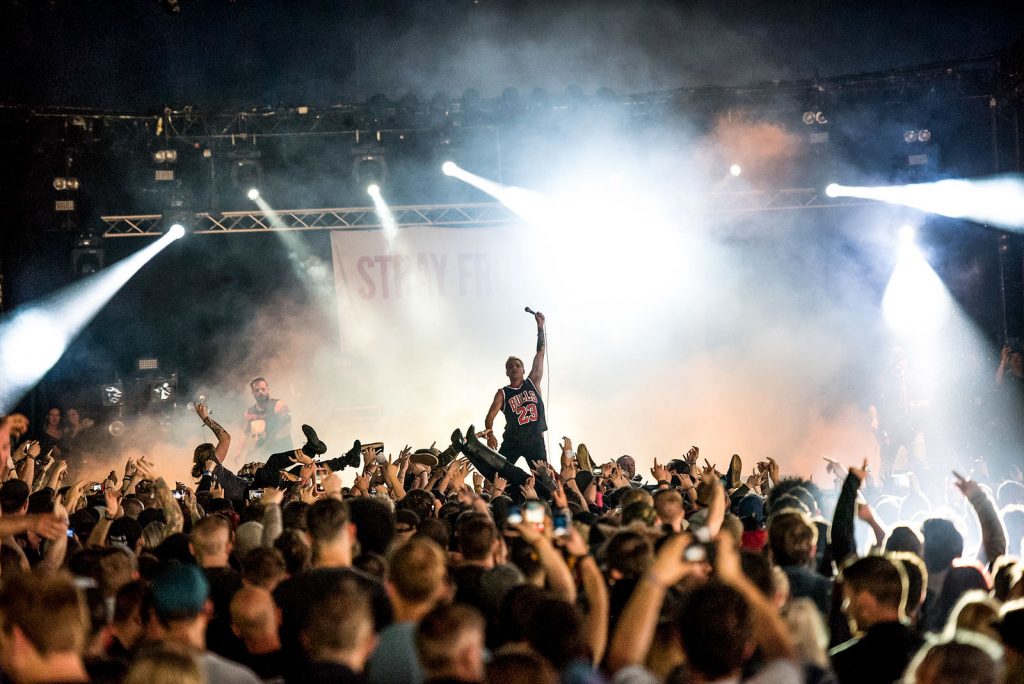 Stray From The Path (4/5) were in a typically fiery mood for their appearance on the Avalanche stage. The quartet smashed out a set that was as compelling as it was bruising, with the comparative intimacy of the (still huge) tent keeping the energy of band and crowd contained to create an atmosphere that was charged to say the least. (DW)
On their Download debut Stick To Your Guns (4/5) waste little time in turning the Avalanche stage into a sea of pounding fists and banging heads. Early standout moment 'Married to The Noise' sees the band earn their first major singalong as the bodies writhing in the pit get even more fraught. Like SFTP before them, the band don't flinch from preaching a fiery anti-BS and politics rhetoric between songs, which is met with a rowdy seal of approval from the crowd. (DW)
"And now it is time for me to play a guitar shaped like a slice of pizza" quips Andrew W.K. (3/5) A statement which in fairness sums up his delightfully off-kilter appearance as well as any other. His brand of hard rock may not be terribly revolutionary but it is a lot of fun and infectiously positive. Much of the crowd gathered at the Zippo Encore stage may be plainly waiting for one song in particular, but the rest of the fare is lapped up happily enough. One amusingly long countdown later and said song drops queuing all present to 'Party Hard' indeed. (DW)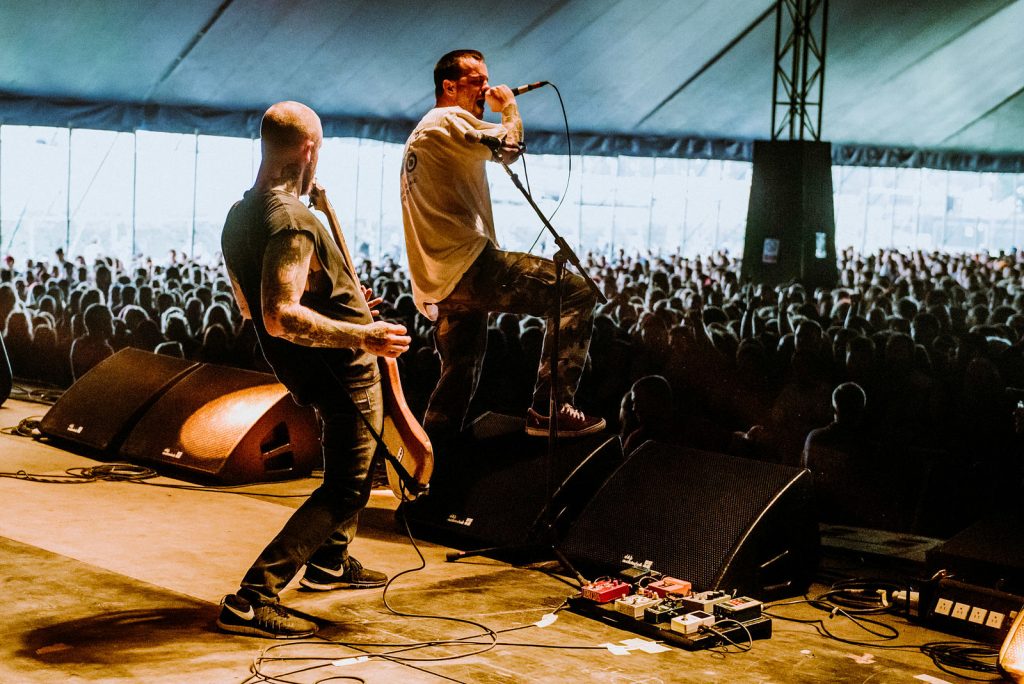 Future thrash punk icons Cancer Bats (3.5/5) return to Download after five years away. It's clear they've not been forgotten about as the Avalanche stage tent is bursting at the seams with people. The Canadian quartet thoroughly delivers what's expected of them and then some. Heavy, frantic, occasionally sludgy, riffs with Liam Cormier's screams and shouts adding to the ferocity of what Cancer Bats have to offer. A glorious return to Donington. (SR)
As Bullet For My Valentine blasts out hit after hit of modern metal, Hell Is For Heroes (2.5/5) are over on the second stage playing to a sparse crowd. Nevertheless, they soldier on with highlights from their influential 'The Neon Handshake' ('Five Kids Go,' 'Night Vision,' and 'You Drove Me To It.') While their cover of The Cure's 'Boys Don't Cry' is admirable. Maybe it's their billing? Maybe it's the stage they've been put on? Either way, today isn't one for Hell Is For Heroes to remember. (SR)
It's down to veteran punks Bad Religion (4.5/5) to close out day one on the Avalanche stage and they do so in slick, seasoned fashion. Rarely these days is classic punk delivered with this level of aplomb and articulacy. Greg Griffin may look a shade like a school teacher dad dancing about the stage in his shirt and jeans, but there's no doubting the power, passion and irresistible melody of his delivery. The band power through swathes of their hits with the likes of 'American Jesus' and 'You' still sounding as essential and life-affirming as ever. (DW)
It seems Tesseract (3.5/5) being the only alternative option to A7X proves to be beneficial. Whether it's through curiosity or genuine fans showing their support, they more than fill the relatively intimate confines of the Dogtooth stage. On stage, Dan Tompkins' harmonious voice soars above and beyond as his bandmates supply a rumbling blend of atmospheric prog and tech metal. As proficient as ever, they showcase their latest album 'Sonder' alongside heavier older cuts such as 'Concealing Fate' (parts 1 – 3) in a positive light. (SR)
Avenged Sevenfold (3/5) brought heavy quantities of flames and sentiment to their Friday night headline slot. Relatively youthful they may be compared to the headliners due to follow them, the band are still a safe bet when it comes to big crowd-pleasing metal. Here they provide the requisite touches of drama and immaculate musicianship, while M Shadows soaring, gravel-laden vocal and undeniable charisma has even viewers to whom he is a speck in the distance well in his sway. 'Bat Country' in particular provides an adrenaline-fueled moment to remember.
Shadows and his band are plainly in reflective mood, he makes a plaintive plea for fans to reach out for help fighting their demons, while earlier in the set the stage went dark apart from a solitary video screen displaying a tribute to The Rev. Moving though all of the poignancy becomes, there is a sense that the band at times coast through the performance without hitting their top gear all that often. It's frequently left to the excessively utilized fire cannons to add spectacle while presumably also lightly crisping various low flying local wildlife. (DW)
Saturday 9th June
What a difference almost a year and a freshly inked deal with one of pop-punk's most respected labels can make. Last festival season WSTR (2.5/5) played to a only a modestly full Pit stage at Leeds Fest. Roll the clock forward and a large and enthusiastic crowd flocked to their appearance in the Avalanche stage, with most present knowing almost every word of their New Found Glory lite pop-punk. It's certainly peppy and enthusing if not memorable stuff. Although they show signs of becoming a polished live act, the band have a way to go yet to step out of the shadow of their more prominent UK pop-punk mates. Current single 'Bad To The Bone' at least suggests they're heading in the right direction. (DW)
Leeds' Higher Power (4/5) pack out the Dogtooth tent and immediately tear it up, walls of sludgy guitars whipping up a sizable pit that never rests of closes at any point throughout the set. Frontman Jimmy Wizard's snarl has just enough melody to it to prove accessible without detracting from the urgency of his delivery. This lot are possibly THE band to watch out for on the UK hardcore scene at present. (DW)
The Struts (3/5) are as about as close as it gets to Download hometown boys as it gets. Although vocalist Luke Spiller's Steven Tyler meets Noel Fielding stage presence may be a bit cliche, he's exactly what a crowd gathered primarily to see Guns and Roses need to get them warmed up. Ditto for the fact that musically his band crank out one classic rock trope after another. If they can continue to craft hooks as irresistible as 'Could Have Been Me' this will be far from their last Donington main stage appearance. (DW)
Due to Corrosion of Conformity's never-ending riffing (or delayed start,) Bury Tomorrow (4.5/5) are late on. Nevertheless, that doesn't stop the Southampton metallers delivering a ferocious set. Longtime favourites 'Earthbound' and 'Cemetery' thrive with Daniel Winter-Bates commanding the thousands watching. While recent single 'Knife of Gold' is introduced as 'Black Flame''s heaviest cut, sending dedicated fans into a spin in the pit. Once again, Bury Tomorrow prove to be a live force that can't be ignored. (SR)
Having released one of the stand out records of the year so far in 'Time Will Die And Love Will Bury It', Rolo Tomassi (3/5) return to Download on a wave of momentum. Opening with 'Time Wide Die…' highlight, 'Rituals' sets the tone for a fierce and lively set. As the sibling duo of Eve and James Barlow bounce across the stage, Rolo Tomassi's twist and turns of hardcore blasts and harmonious interludes prove to be compelling. (SR)
Pop-rock is something in typically short supply at Download. So it's a good job that it was one of the scene's most dependable acts, Arizona's The Maine (3.5/5) flying the flag for it. The likes of 'Girls Do What They Want' soon gets the hardy souls tempted away from the attractions of Parkway Drive and Black Stone Cherry dancing. Odd though some of his stage quips maybe be, John O'Callaghan is as charming as ever with his smooth vocals the antidote to the throat-shredding going on elsewhere. (DW)
Essentially the main warm-up before GNR's three hour plus show, Parkway Drive (5/5) are here to steal the show and make their claim to headline the main stage. While the beaming early evening sun might deter the use of fireworks and flames Parkway bring, that doesn't hinder them from delivering a compelling, even momentous, show. Add to that a spinning drum kit, stellar riffs from Jeff Ling and Winston McCall's domineering vocals, and you're left a show that set the bar high for the rest of the weekend. Future headliners? It's only a matter of when, not if! (SR)
As Mayday Parade (4/5) gear up to drop their sixth studio album, they use their spot as the penultimate band on the Avalanche stage to take an emotive romp through their back catalogue. Perhaps wisely the mostly visited release was their beloved debut 'A Lesson In Romantics', as airings of 'Jamie All Over' and 'Jersey' that bookend the set are roared emphatically word for word back at the stage. Often recently released singles can be met with polite indifference at festivals, but the reaction to 'Its Hard To Be Religious…' underpins it as one of the band's most potent singles in years. (DW)
They said it would never happen in this lifetime, but never say never. Yet Axl, Duff, Slash and company returned to Donington together. With a full stadium show expected and thousands upon thousands pitching up, Guns n' Roses' (3/5) return to Download as the most anticipated set of the weekend.
With over three hours allocated, it's somewhat expected that Slash's everlasting solos (and Axl's outfit changes) along with a handful covers means the momentum they have early on, through classics such as 'Its So Easy' and 'Welcome to the Jungle,' soon disappears. Although 'You Could Be Mine' and stand out covers 'Live and Let Die' and 'Slither,' ignite some life into the show, a deep mid-set lull ultimately hinders the lengthy set. Was it worth all the hype? Unfortunately not. (SR)
Sunday 10th June
Emerging Welsh wonders Dream State (3.5/5) open the final day with enough urgency to wake up the weary heads. Fresh off releasing their impressive 'Recovery' EP, CJ Gilpin's raspy voice compliments the band's melodic post-hardcore. While CJ's positive message of channelling issues into music comes off as sincere before launching into 'White Lies' to round off a short but impressionable set. (SR)
Over on the Dogtooth stage, Essex newbies Sun Arcana (2/5) are making their Download debut. Their steady, impassioned brand of rock draws in a reasonable crowd, and while they're far from the band of the weekend, they showcase their 'As I Take a Breath…' EP admirably. (SR)
Longtime AH favourites Puppy (3/5) play to one of their biggest festival crowds yet on the Avalanche stage, and their pop-tinged crunching rock hooks provide a much-needed boost of life to an afternoon flagging in the heat of the final day. That the happily nodding heads number in the thousands is an indication of just how far the band's organic, hype-free growth is taking them. (DW)
Milk Teeth (4/5) celebrate their 5th birthday as a band by providing a rare moment of peppy, feel-good punk jams to the final day's rather poe-faced lineup. Becky Bloomfeld and her bandmates have been putting in the miles on the festival circuit for years now and it really shows, their set is excellently delivered, engaging and most importantly a genuine blast from start to finish. 'Brain Freeze' provides an abrasive early highlight, but it's 'Owning Your Okayness' that really hammers home what a joy this lot are to experience. (DW)
To the surprise of nobody Black Veil Brides (3.5/5) draw a huge crowd to the main stage and quickly heat a blazing afternoon even further with a tonne of pyro and a scorching performance. Andy Biersack has established himself as one of the few new bonafide metal superstars of recent years, his showy and infinitely watchable command of the stage makes this feel like it could be mistaken for a headline set. (DW)
There's something so satisfying watching Thrice (3.5/5) in the boiling hot sun on a Sunday afternoon. As we learned when speaking to Dustin and Teppei beforehand, they're not quite ready to spill the beans on their new album. Yet to their advantage, they've got a whole load of fan favourites in their pocket. From old classics 'Silhouette' and 'The Artist in the Ambulance' to more recent cuts such as 'Hurricane' and 'Black Honey,' Thrice provide a short and sharp reminder of their alt-rock greatness. (SR)
Backed by just a drummer, Jamie Lenman (4/5) prospers on the Avalanche stage with a frantic display. While on record he can occasionally experiment, Lenman knows this crowd wants the heavy stuff. Straight out the gate he delivers a raucous set with 'Hell in a Fast Car,' 'One of my Eyes Is a Clock,' and 'Waterloo Teeth' setting the tone early on. While the addition of Reuben favourite 'Every Time a Teenager Listens to Drum & Bass a Rockstar Dies' and new single 'Long Gone,' merely adds to the intensity that Lenman stirs up. Considerably one of the weekend's hidden gems. (SR)
US alt-rock radio mainstays Shinedown (3/5) get plenty of fists waiving during a businesslike spell on the main stage. They're watchable enough, but as is common with the genre everything on offer is fairly formulaic.  It is however undeniably cool to hear former Raw theme 'Enemies' live as thousands of people jump in unison, before sentimental flag waver 'Second Chance' gets a major singalong. (DW)
Reunited and revitalized pop-rockers A (4/5) make for an ideal hit of nostalgia to lift sagging energy levels as afternoon becomes evening. Years of pulling the strings in the studio has dulled none of Jason Perry's stage banter, his interactions with McFly's Dougie Poynter on Bass, as well as an array of self-depreciating gags make them one of the few bands of the day to actually be amusing. Perry prepared for his life writing and producing pop hits crafting big accessible choruses for A, so this was half an hour or so of one majorly catchy hook after another. 'Nothing' may close the set on a major high, but the uber potent ear-worm 'Starbucks' goes down just as well. (DW)
Canadian hardcore quintet Alexisonfire (4.5/5) don't play often, so it's no surprise the masses soak in their Zippo Encore stage set as much as they soak up the beaming sun. They bring it hard and fast with George Pettit's ferocious shouting and Dallas Green's melodies being an instant reminder of AOF's greatness. Over the course of 40 minutes, they show everyone why they're so missed and respected. Pettit leads the crowd on 'We Are The Sound' while 'This Could Be Anywhere in the World' is sung in unison by the masses. It might be an all too brief return, but it's certainly welcomed. (SR)
In another "how is this not a headline set" moment, Marilyn Manson (4/5) brought every bit of the gothic pomp and spectacle that has long been his calling card to the main stage. In what was probably the most iconic image of the entire weekend, Manson literally preached to the devoted masses (and we really do mean masses) from an actual pulpit on the stage. Add to that the likes of 'Mobscene', 'This Is The New Shit' and 'The Dope Show' sounding at their most gloriously soul infecting, and this set basically blew the two previous night's headliners clean out of the water. And that's before we even consider the riot that 'Beautiful People' featuring a guest spot from Dani Filth was live. (DW)
Ska punk and Download aren't two things that should work together, but having witnessed Less Than Jake (4.5/5) it clearly does. With a jam-packed, upbeat set, Gainesville's favourite sons provide a party-like atmosphere. Sure their performance isn't entirely tight and precise, but when they're busting out songs such as 'The Ghosts of Me and You,' 'The Science of Selling Yourself Short,' and 'All My Best Friends Are Metalheads,' you can't help but walk away with big smile, wanting more. (SR)
Finally, we reach the point where all that's left is for everyone's favourite batshit crazy Brummie, the one and only Prince of Darkness Ozzy Osbourne (4.5/5), to bring down the curtain on Download 2018 as only he can. That this was somehow simultaneously both Osbourne's first and last solo Download appearance was pretty staggering in itself, and he truly rolls back the years to make it a night to remember.
Here the Black Sabbath icon was as close to the top of his game as it gets nowadays, and genuinely excellent early renditions of 'Bark At at The Moon' and 'Mr Crowley' get both Osbourne himself and every soul in Donington Park pumped up and fully invested in the set from the off. That he can count on one of the most remarkable axe-wielders on the planet in Zakk Wylde to take live performances like this to the next level really helps add an extra sense of occasion and wow factor to proceedings (Zakk > Slash by a very, very long way if you were wondering). AH were left to gaze in awe such is the mastery of his riff work and soloing, even to the extent that his obligatory prolonged solo wasn't as tedious as those ground out by others.
The wise inclusion of tactically placed Sabbath hits including 'War Pigs' and 'Fairies Wear Boots' kept the energy levels up throughout, and as 'Paranoid' brought the night to a triumphant close there was no doubt we had just witnessed a true legend taking a befitting final Donington bow. As the strains of Ozzy and Kelly's hit 'Changes' drifted over the departing hordes, it left a very pertinent question raised by this year's event lingering in the air.
Just how much longer can the Download top brass rely on behemoths of the increasingly distant past to be the marquee ticket sellers? More importantly, can they be relied upon to put on a show worthy of the occasion and the ticket price when they're given the chance to? Based on this year's event neither question can be answered in a remotely definitive way. (DW)
3.5/5
Words by Dane Wright (DW) and Sêan Reid (SR)
---
View more of Already Heard's Download Festival 2018 coverage here.
---
If you have enjoyed reading this article and would like to help us produce more content and promote more great new music, please consider donating to our Patreon page.