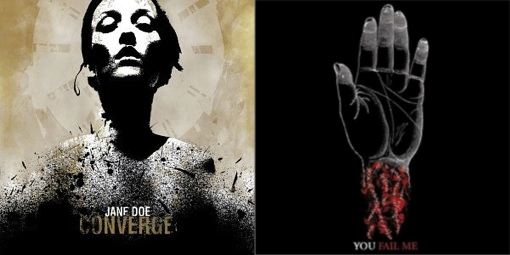 Here at Already Heard we discuss a lot of stuff, and there's a lot of stuff that we probably shouldn't mention here. However, we do also discuss stuff related to the site, otherwise we wouldn't get anywhere! We chat about 'Versus' a lot, with who to cover and who's going to take part. It seems so inevitable now that a piece on Converge would happen. From then on though it was tricky. With pretty much every album being consistently brilliant it was a tough case for two of our writers to delve into this head first and deliver their best cases.
Ollie Connors in defense of 'Jane Doe' and Robert Maddison in defense of 'You Fail Me' was the end result and the end result of Converge's current UK tour will be a path of brutality and destruction; I can't wait.
 What is your favourite Converge album? Let us know on Facebook or Twitter.
'Jane Doe' (by Ollie Connors)
As soon as Converge came up in this 'Versus' series, I knew that I had to write a paean to their 2001 record 'Jane Doe', one of my absolute favourite records of all time. The problem I face, as I sit letting 45 minutes of brutal, beautiful perfection course through my neurones, on the day I go to see the Massachusetts four-piece at London's KOKO, is "How can you even begin to impart how incredible 'Jane Doe' is?".
This record is the all-time emotional heavyweight champion of the world. Forget your Leonard Cohen, your Joy Division and your Nine Inch Nails, this is wrought to the brim with heartache and personal trauma. Lead vocalist and lyricist of the band Jacob Bannon had been to hell and back in a relationship that not just fell but exploded apart, and 'Jane Doe' is the catharsis of his resultant depression, aggression and heartbreak. The record begins with 'Concubine', a simple palm-muted riff exploding into a maelstrom of noise swimming around your head, while Bannon metaphorically wraps his hands around your throat, not to let go for a second. 'Fault And Fracture' follows on seamlessly, a blast of pure sonic onslaught driven by Ben Koller's furious yet surprisingly nuanced drumming.
Although maybe not as influential musically in the hardcore scene as something like Botch's 'We Are The Romans' or Refused's 'The Shape Of Punk To Come', this album is treasured by so many of the bands we see around today – you're never too far away at a hardcore show from someone sporting this album's distinctive artwork on their chest. Wave upon wave of guitarist Kurt Ballou's taut, technical riffs hit you around the head, but this album is not just a musical juggernaut, bulldozing everything in its path; there are quieter, more introspective moments, such as the slow and sludgy 'Hell To Pay', which builds and gathers steam slowly and steadily, a welcome break from the unyielding rage before it. 'Homewrecker' follows on, the centrepiece of the album, with its breakneck drum fills and Bannon's anguished howled message of "No love, no hope", haring through just under 4 minutes at an astonishing speed and pace.
If this 12-tracker were to be split into thirds, the trio of songs following 'Homewrecker', 'The Broken Vow', 'Bitter And Then Some' and 'Heaven In Her Arms' are arguably not quite as strong as the opening quartet, but can still be relied on for moments that propel this record to its virtually untouchable status, such as 'The Broken Vow''s finishing repitition of "I'll take my love to the grave", a lyric delivered with such conviction and passion, it incites absolute chaos in the live arena. To commence the final four tracks, 'Phoenix In Flight/Phoenix In Flames' is a two-part mini-epic, the first part a seductive, hazy slow-burner, Bannon's voice drowning amidst floods of feedback. This eventually swells and bursts into life, feeding into the chaotic 'Phoenix In Flames', a song that has a drum sound akin to chucking a kit down the side of a mountain.
The chaotic theme is retained in the wonderful 'Thaw', the end of which sees Bannon's vocals at the absolute height of pain and anguish, whilst the band trade off technical blows in the background, delivering a perfect penultimate track to open the curtain for the album's eponymous track and closer, 'Jane Doe'. A track that I would personally rate amongst the most perfectly written of all time, this 11-and-a-half minute masterpiece is a culmination and an outpouring of everything the unidentifiable 'Jane Doe' has put him through. When this song was given a rare live airing at Camden's Electric Ballroom venue, the floor was filled with men visibly weeping at the beauty of this song, yours truly included. It is the emotional equivalent of being repeatedly smashed around the head by a breezeblock; it just absolutely floors you, waits for you to recover slightly during the quieter mid-section and delivers the knock-out punch of the titanic, monolithic closing riff.
'Jane Doe' is 
Converge's
 magnum opu
s – the 
pièce
de
résistance of their 22 year career, and for my money, one of the very greatest musical recordings ever put to CD. Like the swords of master Hattori Hanzo in Tarantino's Kill Bill, to compare this to other Converge albums, you compare it to every other hardcore album ever made that wasn't made by Converge, and in a discography of constant and consistent greatness, this is the absolute cream of the crop. I'm sure my rival will have a real go at finding fault with this album, but there simply isn't any to be found. This album still blows my socks off today just as much as the first time I heard it roughly nine years ago, I owe this record a large portion of my current music taste and carrying me through my own personal heartache and depression – it means absolutely and completely everything to me.
'You Fail Me' (by Bert Maddison)
I am never going to win this, I feel like I am fighting a battle which is already decided but nevertheless I am going to try my hardest to fight my corner and stand up for Converge's 'You Fail Me'. I think the biggest reason for my decision to choose 'You Fail Me' was the fact that it was my introduction to Converge. I was exposed to the track 'Eagles Become Vultures' and I became hooked wanting to know more about this new noise I had experienced.
I must say that I do think 'Jane Doe' is flawless (like every fan I have ever met will say); on the contrary it is musically brutality in its rawest and purest form. However 'Jane Doe' was presented on a pedestal to me and I was wary of it and never explored it until a while after.  
'You Fail Me' is dynamically flawless, where as it's predecessor contained a rage like no over Converge took that power from 'Jane Doe' and added to it. 'You Fail Me' explores the parameters of highs and lows, soft and hard and fast and slow that wasn't as developed in the previous release. This release, to me, has more power to it; it is constructed in a way which projects the power of this band better. In terms of technicality, it is Converge we are talking about here; with a career spanning 20 years keeping such technical consistency would be a challenge for any band however with every record so I must say that on a technical front both albums are on an equal playing field.
Jacob Bannon's vocal style on the album had matured, switching between spoken word to his unique bellowing roar makes this album so special, whilst bands around this time were mixing between singing and screaming in such a linear fashion, Bannon's vocal creativity and power really comes through and I think it is a Converge that newer fans are more familiar with. As 'Last Light' plays the dynamical landscape is shown instantly, Bannon speaks the words but still has that power in his voice, Kurt Ballou's sombre pacing riff builds up the song and the frustration and energy yet to be unleashed. By the end you have this wall of noise attacking you with a message so strong… "Keep breathing, leep living, keep searching…". The power still gets me.
The title track has that pacing opening riff that really taps into your emotions, "YOU FAIL ME" Bannon roars as the track paces you through 5 minutes and 32 seconds of anger.
Specifically 'Eagles Become Vultures' was the first song I had ever heard by the band, I will never forget the technical ability I heard when the opening drum fill crashes into you after the mellow sound of 'In Her Shadow' ends. I will never forget that, the sheer amount of times I repeated those opening seconds over and over, in awe of what I had just heard. It was musical brilliance.
On a personal level and in terms of diversity 'You Fail Me' will always get my vote; I love Converges' output as a whole and to try and justify this is one of the hardest things I have had to write and no matter who you agree with at least we are all united in the fact that Converge are one of the most important bands of our generation.
What is your favourite Converge album? Let us know on Facebook or Twitter.
Converge links: Website|Facebook|Twitter|Tumblr
Want to be a guest writer for a future 'Versus' feature? If you're in a band, run a label or music website then we want to here from you. Send us an e-mail to info@alreadyheard.com.