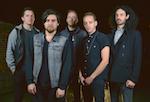 Essex rockers Villains have announced their debut self-titled album will be released in early 2014. The band includes members of the now defunct Never Means Maybe.
1. The Ways I Tell Them
2. Wicked Ways
3. The Fall
4. We Have Capture
5. Bleed
6. The Light Out Lives The Star
7. Come Out And Play
8. Visions
9. Sinners
10. The Hardest Part
'Come Out And Play' is available to download for free here.
November (with Out For Tomorrow and Forever Can Wait)
18th Ipswich – The Steamboat Tavern
19th Birmingham – The Roadhouse
20th London- Nambucca
21st Southampton – Unit
22nd Cardiff – Fuel Rock Club