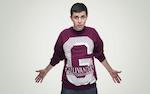 During his set at this past weekends Vans Warped Tour UK event, rapper Watsky jumped off the stages lighting rig which resulted in breaking a girls arm and hurting another guy, whilst Watsky also suffered injuries.
Watsky has now posted a message where he states he was "stupid and wildly irresponsible".
A fan filmed video of the incident can be viewed by clicking read more.
Read the full statement below.
This is news to some, but many of you may have heard about the incident today at Warped Tour London. I jumped off an extremely tall lighting tress during my last song, and was taken to the hospital for examination. I was released, and I'm fine, besides some nicks, bruises, and the shame of endangering the crowd. The fall broke a girl's arm and hurt another guy. My tour manager Nils and I stayed at the hospital for 6 hours til the visiting period ended, and all I know about the man's condition at this point is that he has no breaks and the injury seems to be muscular/ bruising. I'll be going back in the morning to try to apologize, but I wouldn't blame the guy if he spits in my face. The jump was not awesome, it was not badass, and it was not ballsy. It turned what should have been a great day for the people who got hurt into a nightmare. It was stupid and wildly irresponsible, plain and simple.
I have no excuse for my actions, and the only way I can explain my mindset is that it was a huge overreach in the heat of the moment. No, I was not drunk or on drugs. I used to be a kid who was afraid to do anything physically dangerous– I was scared of the ball in little league, didn't want to jump into lakes and would never have had the nerve to crowdsurf. But in the last year of touring, I've done increasingly risky things, maybe pushing myself by some dumb sense I am conquering my early timidity. I pride myself on trying to put on a good show and always giving 100% energy, but jumping off some high shit doesn't make someone a good musician or performer. I feel fucking terrible. I made a boneheaded decision that got people hurt, and it's extremely lucky it wasn't worse. Putting your own body on the line is one thing, but putting other people in harm's way is inexcusable. Today I let down my supporters, I let down the Warped Tour and I let down my band and the people who work their asses off behind the scenes to make these shows happen. My #1 priority right now is to somehow make this right for the folks who were hurt.
I will not be canceling the remaining 6 tour dates. I will do the shows, as usual I will meet everyone afterwards, and I will NOT be jumping off anything. I am deeply sorry and I promise to learn from this mistake.