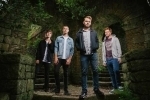 We Are The Ocean have released the second video in a series of tracks recorded at Middle Farm Studios.
The session video for 'Runaway' can be viewed by clicking read more.
The tracks from the session will be part of the forthcoming Deluxe Edition of 'Maybe Today, Maybe Tomorrow', which is released through Hassle Records on 14th October.