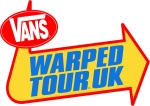 The final set of bands for Vans Warped Tour UK have been announced with We Are The Ocean, Attila, The Defiled, The Skints, Love Zombies and Rat Attack joining the line-up.
Vans Warped Tour UK will take place on November 16th and 17th and will once again take place at London's Alexandra Palace.
Saturday 16th November
Rise Against
Parkway Drive
Billy Talent
Alvarez Kings
Attila – JUST ADDED
Blood Command
Canterbury
Capture The Crown
The Charm, The Fury
Chiodos
Crossfaith
The Defiled – JUST ADDED
The Dirty Heads
Escape The Fate
Fact
Handguns
Itch
Like Moths To Flames
Love Zombies – JUST ADDED
Memphis May Fire
Neck Deep
Real Friends
Sublime With Rome
We Are Fiction
We Came As Romans
The Wonder Years
Yellowcard
The Younger
Sunday 17th November
Enter Shikari
Rise Against
Billy Talent
Black Dogs
Carnival Kids
Coheed and Cambria
The Color Morale
Cytota
Decade
The First
Flogging Molly
Ghost Town
Hacktivist
Hatebreed
The Hype Theory
Jim Lockey And The Solemn Sun
Like Torches
The Maine
Max Raptor
Rat Attack – JUST ADDED
RDGLDGRN
Skinny Lister
The Skints – JUST ADDED
Sonic Boom Six
Watsky
Wax
We Are The Ocean – JUST ADDED
While She Sleeps
Yellowcard
Visit vanswarpedtouruk.com for more information.