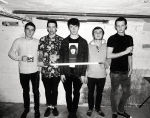 In At The Deep End Records have announced two new signings with Hereford hardcore quintet Weathered Hands and Black Shapes from London joining the label.
Weathered Hands will release their third EP, 'Of All The People That I've Left, Each One Has Died Of Loneliness' on 7" (limited to 500 – 100 Clear Vinyl / 400 Black Vinyl) on 24th June. Their debut album will follow in early 2014.
Their recent video for 'Growth Forever' can be viewed by clicking read more below.
Black Shapes are set to record their new album with Steve Sears (Spy Catcher) this month and will be released later this year.