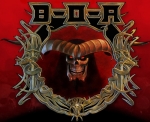 Whitechapel, Kataklysm, Avantasia and Ex Deo have been added to the lineup for next year's Bloodstock Open Air.
They will join headliners Lamb of God, Anthrax and King Diamond.
Friday August 9th
Ronnie Jame Dio Stage
King Diamond
Accept
Municipal Waste
Dark Funeral
Firewind
Ex Deo
Saturday August 10th
Ronnie Jame Dio Stage
Lamb of God
Avantasia
Kataklysm
Sunday August 11th
Ronnie Jame Dio Stage
Anthrax
Devil Driver
Amorphis
Fozzy
Whitechapel
Bloodstock 2013 will be held in Catton Park, Derbyshire on August 8th to 11th. Tickets for the festival are on sale now and can be purchased from the official website.